3D printing techniques are reaching into space to help NASA astronauts. They're also creating production metal and plastic parts for unmanned aerial vehicles (UAVs), fighter jets, commercial planes, and cars. Research is underway to develop additive manufacturing (AM) techniques for making end-use parts for cars and planes from aluminum powders and other materials, including 3D printing carbon composites. Materials and processes are now pushing the edges of what's possible in automotive and aerospace applications.
When humans get to Mars, they will drive around the surface of the Red Planet in a rover much bigger than Curiosity that incorporates AM-made parts. NASA is testing a manned Mars rover in Arizona under its Desert Research and Technology Studies (RATS) program. It's about the size of a Humvee, has a pressurized cabin for two astronauts, and 12 wheels on six axles for navigating irregular terrain.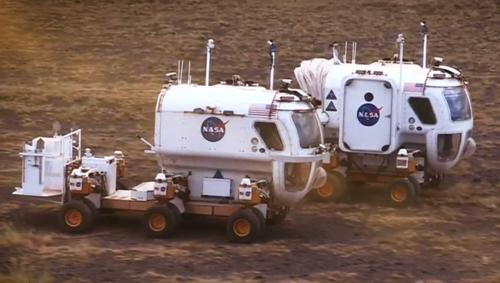 The rover contains about 70 parts made with Stratasys's Fused Deposition Modeling (FDM) process and a production-grade Fortus printer. Parts include large pod doors, a large component that works as a front bumper, camera mounts, flame-retardant vents and housings, and lots of custom fixtures. Materials include acrylonitrile butadiene styrene (ABS), polycarbonate/acrylonitrile butadiene styrene (PCABS), and polycarbonates.
NASA has tested some 3D printers in zero-gravity to determine the feasibility of using them on the International Space Station. During several zero-gravity flights made by NASA's Flight Opportunities Program, Made in Space tested a 3D Systems Bits from Bytes 3000 printer, another off-the-shelf printer, and a third printer customized to manufacture structures in space. Several objects were printed in flight, including a scaled-down wrench. Made in Space worked with AutoDesk to optimize space-based design principles. Since tolerances are even tighter on the space station, a different 3D Systems model is now under test, Cathy Lewis, vice president of global marketing, told us.
Closer to Earth, Microturbo, a manufacturer of gas turbine jet engines, is working with the Advanced Manufacturing Collaborative Research Centre in Australia to develop selective laser melting (SLM) methods, another term for selective laser sintering (SLS), for producing aerospace microengine components using metal alloys. The project aims to develop demonstration microengine components free of cracks and porosity. The partners expect to reduce production stages and material waste, as well as cut design cycles for developing parts. They also plan to develop non-destructive testing methods.
EADS Innovation Works has manufactured several metal production parts for Airbus planes using SLS, including wing brackets, hinges for engine covers, air intake baffles, and aerodynamically profiled cooling ducts. The constraints the company has encountered include lack of fine-tuned temperature controls and restrictions on maximum part sizes.
EADS also worked with EOS to explore a redesign that could take advantage of EOS's direct metal laser-sintering process for a titanium engine cover door hinge on the A380 commercial aircraft. The goal was to make the hinge lighter while retaining its strength. The redesigned hinge, which is not currently used in service, weighed 65 percent less than one made with a conventional casting design. On the airliner, this would result in an overall weight savings of 10kg.