We've addressed some of the many manufacturability challenges carbon composites face in automotive production. But other technical problems must also be solved before carbon is ready for mass manufacturing. One of the biggest is the lack of standards and technologies for joining techniques.
Carmakers have optimized processes for metals. But Peter Cate, global strategic marketing manager for composites at Dow Automotive Systems, told us carbon fiber and epoxy resin are radically different materials, and so are their joining techniques, since they can't be welded.
"You need highly specialized structural adhesives, so this affects the joining and assembly to build the vehicle," he said. "More pieces of the puzzle include combining fiber and resin, how to join composite components together, and how to join them with metal."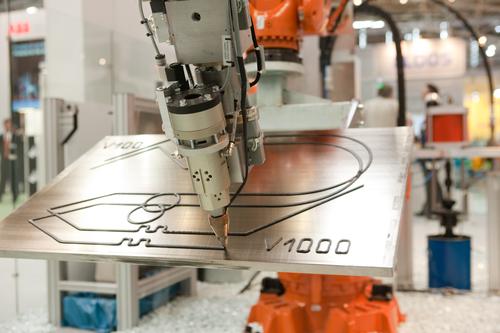 Jay Baron, director of the Coalition of Automotive Lightweighting Materials (CALM) and president of the Center for Automotive Research (CAR), told us joining technologies for carbon fiber are a challenge. "You must use hard attachment or adhesives," he said. "Adhesives aren't standard across suppliers and require sophisticated application devices like robots. Also, the repairability of adhesives, as well as predicting their performance, is difficult."
The Airbus A380 aluminum/composite wing problem (which we discussed here) demonstrated the major challenge of structural joining techniques for mixed materials. Srinivas Nidamarthi, ABB Robotics' technology manager for automotive robotic systems, told us the growing use of plastic and composites brings similar challenges to automotive manufacturing. "One common challenge in structural components is how to combine and join mixed materials and still preserve structural strength, or crashworthiness, so OEMs are working on joining technologies."
Robotic assembly techniques are being investigated to speed up composite production. Nidamarthi said robotic systems could also be used in post-production tasks such as joining, coating, and painting. "We're working on automating those joining technologies, such as hemming, clinching, and rivetting, to make them mass-produceable," he said. "Hemming and clinching require bending or deforming a material. This works as long as you can elastically bend a material to make a joint." But different materials have different elasticity, and metal deforms differently than plastics, so these joining techniques are limited by the behavior of the materials.