Although bioplastics are becoming cost competitive in packaging and durable applications, they're often more expensive than petrochemical-based polymers. So it can be surprising to find out that, in at least one instance, they can be cheaper than cardboard.
The key is in the reusability of plastic packaging, which pushes down the overall cost. But it's also in a closed-loop/reverse logistics setup between Ecospan, the manufacturer of bioplastic shipping containers, and its customer, a very large consumer electronics manufacturer. This setup reclaims and recycles bioplastic material and puts it back into the manufacturing loop.
Originally, the electronics manufacturer sent cardboard shipping containers to its customers so they could send back small electronics, such as smartphones, for repair or exchange. Typically, the cardboard boxes can't be reused, Jeff White, Ecospan's president, told us. "Due to wear and tear and the amount of relabeling when the box is packaged and unpackaged several times in a repair instance, it can't structurally withstand multiple repair instances."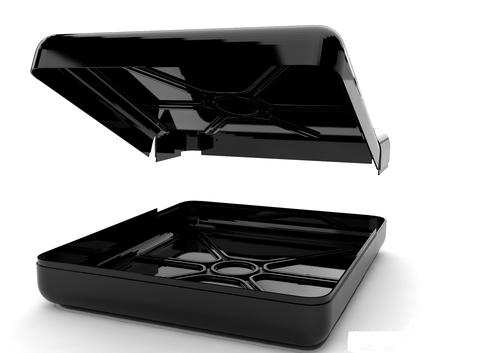 Under Ecospan's closed-loop reuse and recycling model, its BioFlow plastic containers can be reused through six complete repair instances. Even though the bioplastic-based box might cost twice as much to purchase as a cardboard box, its cost of ownership is several times cheaper. At the end of its lifespan, the container's material is reclaimed, reground, and turned into a new container, keeping these materials within the supply chain.
In the closed-loop system, on the front end of the cycle Ecospan provides customized design of bio-based plastics for both durable goods products and product packaging. On the back end, the company makes bioplastic shipping containers and manages reverse logistics operations that incorporate reuse and regrinding of both containers and products made from its plastics.
"We make the material, and we certify third-party mold makers and others that process the material, run the molds, and make the parts for the customer," said White. "Or we can help guide the customer to do all this themselves as the general contractor. We have centers around the world where used products are picked up, cleaned, and sorted for processing, so they can be reclaimed and reused."
The consumer electronics company's annual repair volume is 10 million units. The company was spending about $27.5 million per year on cardboard packaging, labeling, and transporting the cardboard, including buffer stocks and fallout from damage. After implementing the closed-loop/reverse logistics cycle and switching to a bioplastic shipping container, the company figured it would spend $6.6 million, saving $20.9 million.
"The cost of our container and cleaning, labels, etc. was higher per piece, but because we could get at least six full repair instances per Ecospan box, we could provide an enormous annual ROI," said White. "The actual savings is higher because they're getting more than six."
BioFlow is 100 percent petroleum-free and can be blended with other petroleum-free ingredients or with petroleum-based polymers. In January, the US Department of Agriculture (USDA) certified BioFlow as 94 percent biobased, under the agency's BioPreferred program. The remaining 6 percent represents carbon that's not petroleum-based.
Related posts: