A prototype aluminum composite brake rotor has been developed that could weigh 60 percent less than cast iron rotors, last three times as long, and could be cheap enough for the mass market.
The rotor is the result of joint research by the metal matrix composite maker REL and a team at the Polytechnic Institute of New York University (NYU-Poly). It is made from a new fiber-reinforced metal matrix composite designed for volume manufacturing applications. The researchers say the composite rotors would cut about 30 pounds overall from the average midsize sedan. They may also help reduce weight in military armored vehicles, which would help their fuel last longer in situations where fuel delivery is difficult.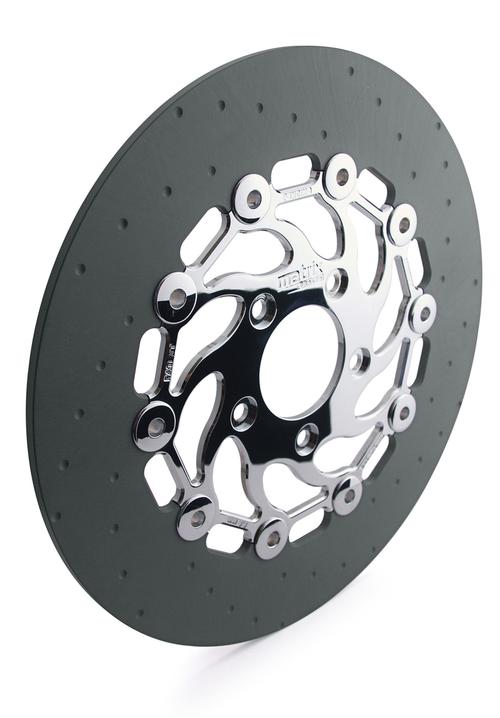 The expense of composite brakes has limited their use to motorcycles, race cars, and high-performance sports cars. The researchers specifically set out to create a material that is easier to manufacture, and they designed the fiber reinforcements for a longer life span. Making automotive brake components more durable has been a longstanding research goal, since they must operate in an environment with tremendous temperature and pressure changes.
REL, which makes transportation and aerospace components out of metal matrix composites, received a $150,000 Phase I Small Business Innovation Research Grant from the National Science Foundation to come up with the initial product design, the metal matrix composite material, and the manufacturing process. The NYU-Poly research team consists of Nikhil Gupta, an associate professor of mechanical and aerospace engineering, and students in his Composites Materials and Mechanics Lab. The team helped to develop the technology for automotive applications.
Most brake rotors are made of cast iron, a strong material that weighs a lot and does not respond well to the varying demands placed on different sections of a brake rotor. Temperature and pressure changes across the rotor's surface are major causes of wear, warp, and brake failure. To function optimally, each of the rotor's three functional sections typically requires a material that has a specific combination of strain and thermal properties.



More Blogs from Engineering Materials
Many of the new adhesives we're featuring in this slideshow are for use in automotive and other transportation applications. The rest of these new products are for a wide variety of applications including aviation, aerospace, electrical motors, electronics, industrial, and semiconductors.

1
A Columbia University team working on molecular-scale nano-robots with moving parts has run into wear-and-tear issues. They've become the first team to observe in detail and quantify this process, and are devising coping strategies by observing how living cells prevent aging.

1
Many of the new materials on display at MD&M West were developed to be strong, tough replacements for metal parts in different kinds of medical equipment: IV poles, connectors for medical devices, medical device trays, and torque-applying instruments for orthopedic surgery. Others are made for close contact with patients.
New sensor technology integrates sensors, traces, and electronics into a smart fabric for wearables that measures more dimensions -- force, location, size, twist, bend, stretch, and motion -- and displays data in 3D maps.
As we saw on the show floor this week at the Pacific Design & Manufacturing and co-located events in Anaheim, Calif., 3D printing is contributing to distributed manufacturing and being reinvented by engineers for their own needs. Meanwhile, new fasteners are appearing for wearable consumer and medical devices and Baxter Robot has another software upgrade.

Focus on Fundamentals consists of 45-minute on-line classes that cover a host of technologies. You learn without leaving the comfort of your desk. All classes are taught by subject-matter experts and all are archived. So if you can't attend live, attend at your convenience.