Foellmer demonstrated what happens when you stick your arm into the path of Baxter's pick-and-place operation -- it stops right away. It also won't pinch you if you get your arm or leg stuck inside its area of operation, such as under one of its moving arms. At first I let Foellmer risk his limbs, not mine. Then I let Baxter's arms run into my arm. The robot's force-detecting motors stopped it immediately.
Being also a materials person, I immediately noticed that Baxter has mostly plastic surfaces, not hard, metallic ones. That's highly uncommon in industrial machines, although not unusual in some service robots. It's also another thing that makes this robot safer.
The second major goal was to make Baxter simple enough so human workers can train it to do easy but repetitive tasks. In other words, it can be programmed by people on the floor, not those with advanced engineering degrees wearing a special software pendant. The fact that it doesn't need complex programming also means it's simple to integrate into existing automated operations, although many smaller manufacturers don't have existing automated assembly lines anyway. Most of their assembly cells are inhabited by humans doing things by hand. But the simplicity of programming makes changing Baxter's tasks much easier than is usually the case in industrial robots. We've discussed that excruciating complexity on several Design News comment boards.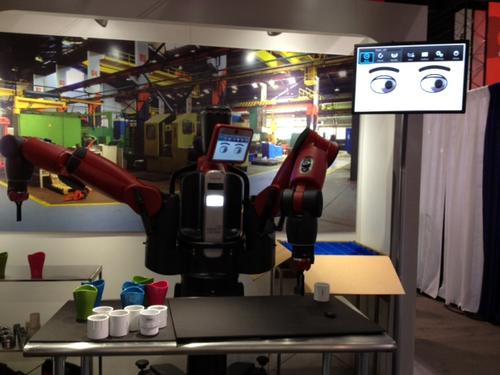 Baxter does not move large parts: It's got a payload limit of five pounds per arm. It's also got a small footprint, weighs about the same as an average-sized adult man, and can be moved around fairly easily. It's clearly not meant to do everything, and doesn't do the kind of high-speed pick-and-place on display in Anaheim by major industrial robot makers like ABB. The other revolutionary thing about Baxter is its open-source Unix-based OS, ROS (robot operating system). That plus an SDK to be released later this year will help open up the robot as a platform for development.
Baxter's $22,000 price tag is much lower than the typical two-armed industrial robot, which should make it more appealing to small companies that want to start using automation. It's already been beta tested at a couple of customer sites, Foellmer said, and has just started shipping.
Related posts: