The strength of seawalls -- or the lack of strength -- was on a lot of people's minds during Hurricane Sandy last year, after many were ripped apart by the storm. A new composite specifically designed for seawalls is tougher and stronger than the standard glass fiber composite materials used in these applications, according to its manufacturer, Gulf Synthetics.
Seawalls are typically made from large sections called sheet pile in wood, concrete, steel, or vinyl. To avoid the degradation problems associated with these materials, some seawalls are made from other glass-based composites, primarily using polyester resins, Gulf Synthetics's CEO and founder, Mitch Wood, said in an interview. Polyester resins absorb water, so they must be coated with a gel coat, yet they still deteriorate after about 25 years. These materials are also typically used in the hulls of boats.
Other sheet pile manufacturers have turned to hybrid polyurethane resins to make stronger composite sheet pile. This can be done without changing tooling or dies, Wood told us. Pure polyurethane resins are even stronger than hybrid resins, and can last up to 50 years. But so far, they've been used only for smaller parts, such as window lineals, in part because working with them for making large sheet piles would require a major investment in new tooling and dies.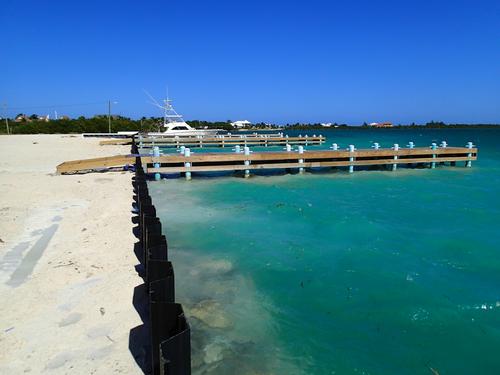 Gulf decided to investigate pure polyurethane resins and worked with Bayer MaterialScience. Gulf's new seawall material is PURLoc, which uses Bayer 's Baydur PUL 2500 polyurethane system. In the same shape with the same dimensions, PURLoc sheet pile is stronger than other composites. This is because it uses more glass fiber in the same area -- 76 percent to 80 percent -- and because a pure polyurethane resin has a stronger molecular structure than a hybrid polyurethane.
"They bond like an epoxy," Wood told us. "With a pure polyurethane, you have to force together two parts in a very high-pressure system, which is why it requires injection."
The new material is manufactured using injection pultrusion. The process deploys a customized urethane injection box that injects resin throughout all the densest layers, making sure they're completely wetted.
Bayer helped Gulf begin the design process by performing a finite element analysis with its Baydur PUL 2500 resin. This modeled how to use the new process for improving sheet pile mechanical properties over Gulf's previous seawall product, Polaris 1580, a hybrid polyurethane, while keeping the same shape and thickness. The new PURLoc material is much stronger than that product, yet costs a bit less, said Wood. It's being used in seawall projects in South America, New York, and the Cayman Islands.
PURLoc's modulus of elasticity is at least 30 percent greater in both directions, longitudinal and transverse, than most other sheet pile materials, Wood said. "Comparing longitudinal, ours is 6.9 million psi, hybrid polyurethane is around 4 million psi, and polyester is about 2 million psi. There are limits with composites, so sometimes you do have to use steel."
Wood declined to reveal the material's tensile strength. (You can download a MPDS for PURLoc from this page.)
Both carbon fiber and glass fiber composites are used in boats and other seaworthy applications, and a new copper fiber composite material has been invented by Fraunhofer for use in desalination plant pipelines. Those pipes are potential replacements for expensive high-alloy steel and titanium, which is what it usually takes to resist corrosion from saltwater, process heat, and remain durable over long periods of time. But these still don't last long enough in corrosive saltwater.
As we've previously reported, a proprietary, pultruded engineering composite made of glass fiber and vinyl ester resins has been used in a floating pontoon, as well as marine structures such as small boat pontoon floats and large jetties.
Some other materials in the Baydur family of polyurethane systems, developed last year, were created to strengthen blades and decrease the weight of root rings in wind turbines. Those materials are carbon fiber composites and incorporate small amounts of multi-walled carbon nanotubes.
Interestingly, one reason Bayer MaterialScience developed the new polyurethanes and the new process was to increase the strength of wind turbine blades as their size increases, as well as decrease mass and dynamic stress. Those large polyurethane composites are produced by vacuum infusion, and demonstrated increased stiffness and fatigue endurance, as well as lighter weight, over existing epoxy and vinyl ester resin systems.
Related posts: