If a prototype tablet PC that debuted at this month's Consumer Electronics Show in Las Vegas ever gets produced in volume and becomes the next big thing in portable consumer computing, we'll be back to laying out sheets of paper on a desk. Except a lot of data will be stored in each sheet, and the sheets will be communicating with one another.
The PaperTab flexible tablet splits a tablet's windows into separate sheets of electronic paper. Developed at the Human Media Lab of Canada's Queen's University in collaboration with Plastic Logic and Intel Labs, the conceptual device should probably be called PaperWindow, since each sheet serves as an app window.
The device runs on the Intel Core i5 processor and is based on flexible plastic transistor technology and 10.7-inch display touchscreen technology developed by Plastic Logic, a company known for its research in plastic transistors and flexible displays. (We've discussed this company before.)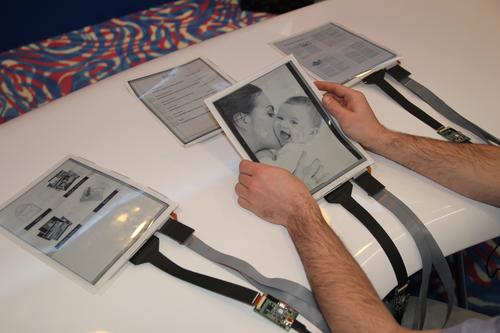 Instead of cramming separate windows on to a single small display, the PaperTab system spreads them out on a physical desk. In a video demonstrating the conceptual device, the displays appear to plug into a box under the desk. Users can have 10 or more "interactive displays," or one per app in active use, that communicate with each other and transmit data through an undefined medium. The idea is to make it easier to work with multiple documents and multiple apps.
The process is similar to opening a window on a regular tablet or notebook PC. When the user picks up a PaperTab, it switches to a full-screen page view. Moving it farther away makes it revert to a thumbnail overview of a document, and when it's beyond reaching distance, it displays icons. Users can navigate through multiple pages within a single PaperTab document by bending one side of the display: one side for forward, the other for backward. Users can also place two or more PaperTabs next to each other to form a larger drawing or display surface, edit its contents, or enter data.
The video shows someone using two PaperTab: one blank and one showing PDF icons. The user hits an icon on one PaperTab with the blank PaperTab to open a particular document. To open an email, the user hits the email inbox on one PaperTab with an empty PaperTab, which is then bent to open a reply window. The user writes on the reply window with a touchscreen keyboard. The user can also create a larger view of a drawing by placing two PaperTabs side by side and then dragging an image from one to the other.