Several different processes aim at better part quality and reliability. For example, MuCell's process can improve snap-fit parts, common in automotive applications. Because there's no pack and hold, and the cooling cycle isn't as harsh, parts are more accurate in terms of joining correctly, said Braig.
Consistent, repeatable, molded part production can be ensured through Scientific Molding and Design of Experiments, said Ryan Katen, general manager of Micro Mold. "Scientific Molding is the only way to have a repeatable process molding environment, if controls stay within a certain preset window in the manufacturing process." It's common in more technical molding environments with critical requirements, such as automotive, aerospace, and medical.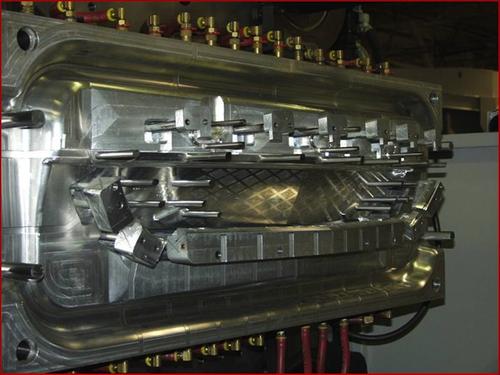 Scientific Molding dissects the molding process into various components, to reduce, or eliminate as much as possible, any process variations, such as from one material lot to the next. Although it's been around a long time, it wasn't used frequently until the last 10 to 15 years, said Rob Cooney, manufacturing manager at Micro Mold's sister company, Plastikos. With the increased pressure on US manufacturers to become more competitive and efficient, it's become more of a requirement.
"If you're not doing Scientific Molding, you're not accounting for certain variables to ensure a process that has lot-to-lot repeatability," said Cooney. "For example, customizing injection velocity is an important one. Another is hold time. If there's too much hold time, cycle time will be too long, and if there's too little, there will be too much process variation."
Once a Scientific Molding process and baseline have been established, Design of Experiments comes into play. This approach tests the highs and lows of the impacts of intentional process changes such as warpage, or a part's dimension, on the final part. It has become especially important during the last five to six years across all customer application areas, as the demand for increased quality and continuous improvement has risen, said Cooney.
Quality requirements are higher in industries such as medical and electronics, where tight tolerances and specifications must be met. "Form, fit, and function are critical dimensions on these parts and must be met 100 percent of the time, with no exceptions," said Cooney. He continued:
For medical, there's a long, comprehensive qualification process. Manufacturers have to prove they're capable of producing parts consistently over a long-term period and everything that happens in production must be traceable. While strict, the requirements for even military and aerospace are not as stringent as medical applications.
In several industries, OEMs are converting parts from metal designs to plastic designs to reduce size and weight. As material development has continued to produce better mechanical properties in thermoplastics, they have replaced a lot of metal parts in the automotive industry, as well as in appliances and power tools, said Braig.
Metal-to-plastic part conversions are also occurring in medical equipment. For example, one Plastikos medical OEM customer wanted to explore more cost-efficient methods for producing a component within one of its medical pumps. The brass part had traditionally been machined, a costly and time-consuming process, said Cooney.