New processes and practices in injection molding are adapting the technology for the high-volume production of components for industrial, automotive, aerospace, and medical applications. These techniques include changes in materials and processes, such as shifting from steel to aluminum tooling, as well as approaches for converting metal part designs into parts that can be realized in plastic.
One shift to help boost volume and reduce costs is the trend toward integrating multiple steps within the mold. Traditionally, after plastic parts come out of the mold, they go through several secondary processes like finishing and assembly. These add cost to the part due to handling, and the need for more equipment and floor space.
For the last few years, Trexel has been doing more inside the molding machine, Steve Braig, the company's president and CEO, told us.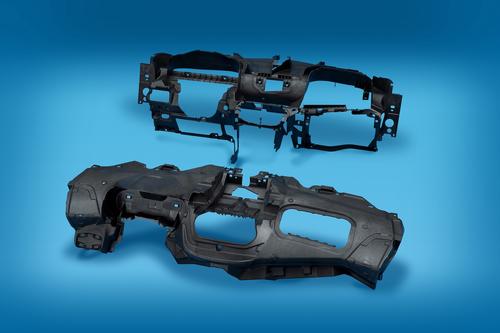 For example, what was previously printed or hot-stamped outside the mold is now finished with an applique or another coat. "Decorating a part in-mold is not without challenges," Braig said in an interview. "High injection pressure near the applique or label can produce enough force to move it, or cause an ink washout by moving the polymer against the label."
Trexel's MuCell process uses lower pressure, avoiding both of those problems, he said. It also saves weight and cycle time, since cavity pressure is about 60 to 70 percent lower than conventional injection molding, requiring less clamp force.
Another trend that reduces cycle time is the shift to aluminum tooling. Although steel tooling is stronger, aluminum heats up and cools down much faster. Aluminum molds are cheaper to make and weigh less, making them easier on process equipment, said Darcy King, president of Unique Tool & Gauge. He went on to say:
With the competitiveness in manufacturing today, especially in automotive, the average cycle time savings of 40 to 50 percent of aluminum over conventional steel molds gives big advantages. That percentage can be achieved when using the design practices we incorporate, and the correct process parameters to optimize the use of aluminum molds.
Unique does several things to make sure tools can last the several-years-long life cycle of an automotive program, including designing them more robustly than a steel tool. For example, for a mold aimed at high-volume applications in millions of parts over a life cycle, the company uses harder, stronger aluminum alloys with excellent wear properties.
Aluminum molds can also shorten lead times. "Our longest lead time is six weeks, versus 12 to 20 weeks using steel," David Myers, vice president of sales and marketing for DRS Industries, said in an interview. "This lets customers fine-tune the design, or bring in modifications. Tooling cost is also lower, at minimum 20 percent less, or even 30 to 40 percent less the cost model of steel equipment, depending on machining and mold construction."
Because steel's conductivity is so poor, there can be variances of 15 to 25 degrees between different areas of the tool, said King. But aluminum's better conductivity lets core and cavity temperatures remain more consistent, usually within one degree. That stresses the part less, letting it solidify with less warpage and movement, improving its quality.