The latest partnership for making composites affordable for high-volume car production is a strategic alliance between German chemical and plastics giant BASF, and The Netherlands-based aircraft composites maker TenCate Advanced Composites. The two have joined forces to develop and produce both glass and carbon continuous fiber-reinforced thermoplastics.
As we've written before, this is not an easy goal to achieve, especially for structural carbon fiber composites. The partnership also comes after several others have already been launched. These include pacts between GM and Teijin, between Ford and Dow Automotive Systems, and a European consortia, such as the UK-based, Umeco-led ACOMPLICE, or the 72-company German consortium led by the Fraunhofer Institute for Chemical Technology (ICT).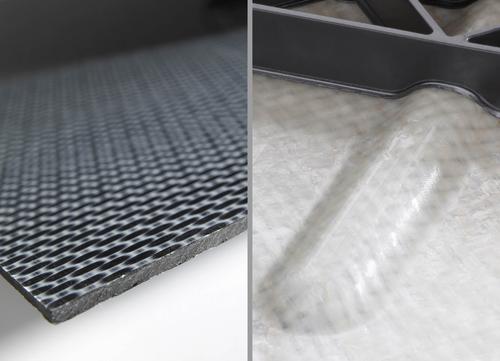 Like these other agreements, the BASF/TenCate alliance targets high-performance, composite materials that can help carmakers reduce automotive weight to meet high mileage targets and reduce carbon emissions. TenCate is already known for its Cetex line of laminates and prepregs used in commercial aircraft interiors as well as structures, and in aircrafts such as the Boeing 787 and the Airbus A380 and A350. BASF is a major producer of plastics for automotive applications.
So, what makes this one different? We asked Dr. Andreas Wollny, head of the high-performance lightweight design team for the Engineering Plastics Europe business unit of BASF SE in Germany, for information.
Although there are many consortia being formed for this purpose, Wollny wrote in an email to Design News that his team "Believe[s] that BASF, as a global leading polymer supplier to the automotive industry, and TenCate, as a leader in thermoplastic aerospace composites, can develop together the required next generation of thermoplastic composites for lightweight construction in the automotive industry." He went on to say:
The challenge will be to make use of the properties of the composites as well as possible, and for that reason, the knowledge of fiber suppliers, the formulation knowhow of BASF, and the manufacturing expertise of TenCate will be beneficial.
Since the ability and willingness to pay, along with the technical requirements, are entirely different between the aerospace and automotive industries, new materials will need to be designed, wrote Wollny. "These new materials will be manufactured partly with the existing knowhow of both partners, but new processing/manufacturing technologies will also be introduced."
The development agreement targets only thermoplastic composites, not thermosets. In carbon fiber composites, the biggest challenge will be to find cost-efficient solutions with a high-weight savings potential compared to aluminum. "This will only be achieved by looking into the carbon fiber, by adapting the thermoplastic matrix materials, and by developing new processes for manufacturing," wrote Wollny.
Under the agreement, BASF will develop specialized variants of its Ultramid (PA), Ultradur (PBT), and Ultrason (PESU) product lines, while TenCate Advanced Composites will contribute its experience with composite manufacturing. Their combined efforts will target a variety of automotive composite materials based on these specialty resin systems, including unidirectionally (UD) oriented tapes, prepregs, and laminates.
Related posts: