Two of the four new forged aluminum wheels from Alcoa Wheel and Transportation Products have higher maximum per-wheel loads than comparable steel wheels. The four wheels, which are up to 44 percent lighter than their steel equivalents, were developed to support the move to higher-load-capacity tires in commercial trucks and trailers facing stricter carbon emission regulations.
Alcoa introduced the wheels at the 64th International Motor Show Commercial Vehicles conference in Hannover, Germany. The two wheels that beat comparable steel wheels' maximum load capacity are an improved version of an Alcoa global trailer wheel and the first aluminum 45mm offset trailer wheel for inloader trailers.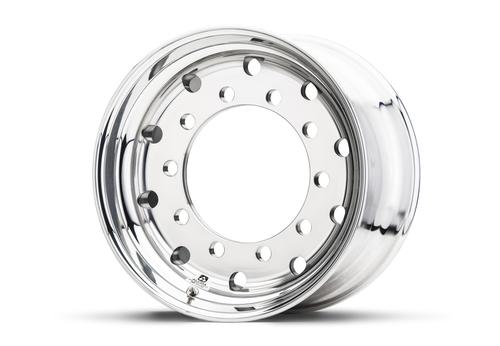 The improved global trailer wheel has a maximum load of 5,500kg per wheel -- almost 6 percent more than the previous Alcoa model -- but is 2.1kg lighter. It's also 22.8kg lighter than a steel wheel of comparable size. The aluminum 45mm offset trailer wheel for inloader trailers is 37 percent lighter than its steel equivalent and has a maximum load of 5,000kg per wheel. Inloaders transport concrete parts and architectural glass plates.
Alcoa's other two new wheels are the 135 FrontRunner and an 80mm offset trailer wheel. The 135 FrontRunner is a 135mm offset truck wheel with a maximum load of 5,000kg per wheel. It can be used on the front axles of Scania, DAF, and Inveco trucks and are 44 percent lighter than steel wheels of equivalent size. The 80mm offset trailer wheel has a maximum load of 4,500kg per wheel. It's designed for use with SAF Holland's new lightweight SAF 80 One axle.
A peer-reviewed lifecycle assessment study concluded that Alcoa's forged aluminum wheels would cut the carbon footprint of commercial vehicles in North America and Europe. In North America, replacing 18 conventional steel truck wheels with Alcoa aluminum wheels would cut carbon emissions by 16.3 metric tons over the wheels' lifetime. In Europe, replacing 12 steel wheels with aluminum ones would cut carbon emissions by 13.3 metric tons.
The study, conducted by PE International Inc. and Five Winds Strategic Consulting, analyzed the cradle-to-grave production process of commercial vehicle wheels, from the mining of bauxite through wheel manufacturing and service to its end-of-life phases, including recycling and disposal in landfills. Alcoa provided primary data for aluminum wheel production at five of its facilities. PE International provided upstream data on fuels, raw materials, and manufacturing processes, including primary metals and chemicals. According to Alcoa, the study is the most comprehensive and transparent comparative LCA on aluminum and steel truck wheels.
We've reported on the use of aluminum as a lightweight alternative to steel for everything from pistons for automotive diesel engines to brake rotors. BMW has adopted Federal-Mogul's aluminum piston for use in its M550d xDrive sedan. The piston meets the strength and thermal performance requirements of newer, very high-power diesel engines without the risks associated with steel, such as engine oil cracking and carbon deposit formation.
A prototype aluminum composite brake rotor developed by the metal matrix composite maker REL could last three times as long as cast-iron rotors and weigh 60 percent less. It may also be cheap enough for use in high-volume automotive manufacturing. REL and co-developers at the Polytechnic Institute of New York University say the rotor's weight reduction will cut about 30 pounds overall from the average midsized sedan.
Related posts: