Now, the programming, design, and production of a functional robot takes several years, is extremely expensive, and involves multiple disciplines, such as hardware and software design, advanced programming technique, and machine learning and vision. The research team's goal in the new project is to automate the process of producing functional 3D objects. Interestingly, the other major goal is to let ordinary people design and build fully functioning robots from everyday materials like sheets of paper, not an entirely new idea in 3D printing.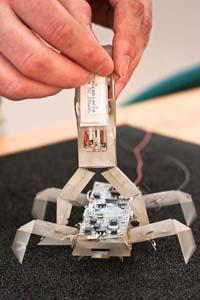 "Our vision is to develop an end-to-end process; specifically, a compiler for building physical machines that starts with a high level of specification of function, and delivers a programmable machine for that function using simple printing processes," said Rus in a press release. "We believe that [this research] has the potential to transform manufacturing and to democratize access to robots."
Researchers' topics of interest are focused on a number of areas, including developing an application programming interface (API) for function specification and design, writing algorithms to control assembly and operation of a device, creating an easy-to-use programming language environment, and designing new, programmable materials for automatically fabricating robots.
In addition to Rus, other members of the CSAIL team include Martin Demaine, Wojciech Matusik, Martin Rinard, and Sangbae Kim of MIT's department of mechanical engineering. The NSF project team also includes Harvard University's associate professor Rob Wood.
Related posts:



More Blogs from Engineering Materials

1
New materials handling guidelines from the National Institute for Occupational Safety and Health give recommended engineering controls for nanoscale materials, which just keep proliferating.

4
A new service lets engineers and orthopedic surgeons design and 3D print highly accurate, patient-specific, orthopedic medical implants made of metal -- without owning a 3D printer. Using free, downloadable software, users can import ASCII and binary .STL files, design the implant, and send an encrypted design file to a third-party manufacturer.

39
A recent report sponsored by the American Chemistry Council (ACC) focuses on emerging gasification technologies for converting waste into energy and fuel on a large scale and saving it from the landfill. Some of that waste includes non-recycled plastic.

13
Capping a 30-year quest, GE Aviation has broken ground on the first high-volume factory for producing commercial jet engine components from ceramic matrix composites. The plant will produce high-pressure turbine shrouds for the LEAP Turbofan engine.

15
Seismic shifts in 3D printing materials include an optimization method that reduces the material needed to print an object by 85 percent, research designed to create new, stronger materials, and a new ASTM standard for their mechanical properties.


LATEST ARCHIVED BROADCAST
For industrial control applications, or even a simple assembly line, that machine can go almost 24/7 without a break. But what happens when the task is a little more complex? That's where the "smart" machine would come in. The smart machine is one that has some simple (or complex in some cases) processing capability to be able to adapt to changing conditions. Such machines are suited for a host of applications, including automotive, aerospace, defense, medical, computers and electronics, telecommunications, consumer goods, and so on. This discussion will examine what's possible with smart machines, and what tradeoffs need to be made to implement such a solution.



Datasheets.com Parts Search
185 million searchable parts
(please enter a part number or hit search to begin)