The Pegasus XL rocket's aft skirt fins are constructed from a single-piece, solid, foam core and wet-laid carbon composite construction around a central titanium shaft. Its wing panels consist of a carbon-faced foam sandwich. The rocket wing's channel section spars that carry the primary bending loads and half-ribs are also made of carbon.
ATK provided the solar array that will power the NuSTAR satellite itself, as well as powering its onboard sensors for NASA's planned multiyear experiments. The company built the NuSTAR observatory's instrument structure, which includes an integrated focal plane bench and optical bench, both made of high-strength composites.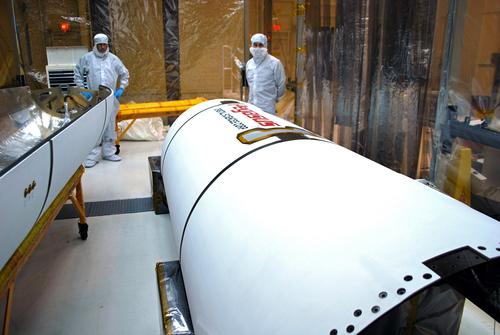 The focal plane bench serves as a stable, multi-functional platform for NuSTAR's instruments. It also functions as the primary interface to the satellite bus structure. During launch, this bench supports the stowed mast/canister and the optical bench with its integrated X-ray optics. The focal plane assembly's instrument electronics and metrology detectors are also mounted on this bench. These perform instrument alignment, focus, and data collection, which are all mission-critical operations.
The optical bench is a precision-engineered, highly stable structure responsible for supporting the X-ray optics modules, metrology lasers, adjustment mechanism, and star tracker. Held stable within the optical bench, the X-ray optics modules will acquire images as the NuSTAR satellite maps supernova explosions and searches for black holes.
Related posts:



More Blogs from Engineering Materials

3
A new service lets engineers and orthopedic surgeons design and 3D print highly accurate, patient-specific, orthopedic medical implants made of metal -- without owning a 3D printer. Using free, downloadable software, users can import ASCII and binary .STL files, design the implant, and send an encrypted design file to a third-party manufacturer.

39
A recent report sponsored by the American Chemistry Council (ACC) focuses on emerging gasification technologies for converting waste into energy and fuel on a large scale and saving it from the landfill. Some of that waste includes non-recycled plastic.

13
Capping a 30-year quest, GE Aviation has broken ground on the first high-volume factory for producing commercial jet engine components from ceramic matrix composites. The plant will produce high-pressure turbine shrouds for the LEAP Turbofan engine.

15
Seismic shifts in 3D printing materials include an optimization method that reduces the material needed to print an object by 85 percent, research designed to create new, stronger materials, and a new ASTM standard for their mechanical properties.

15
A recent study finds that 3D printing is both cheaper and greener than traditional factory-based mass manufacturing and distribution. At least, it's true for making consumer plastic products on open-source, low-cost RepRap printers.


LATEST ARCHIVED BROADCAST
For industrial control applications, or even a simple assembly line, that machine can go almost 24/7 without a break. But what happens when the task is a little more complex? That's where the "smart" machine would come in. The smart machine is one that has some simple (or complex in some cases) processing capability to be able to adapt to changing conditions. Such machines are suited for a host of applications, including automotive, aerospace, defense, medical, computers and electronics, telecommunications, consumer goods, and so on. This discussion will examine what's possible with smart machines, and what tradeoffs need to be made to implement such a solution.



Datasheets.com Parts Search
185 million searchable parts
(please enter a part number or hit search to begin)