The most obvious change is that composites have a much lower bearing strength than metallics, which means fasteners need a larger bearing area under the head of the fastener and under the nut or the collar, said Gurrola. The conventional 100-degree countersunk head was replaced with a 130-degree countersunk head, which increases the bearing area without increasing the fastener's penetration into the material's top surface. Another difference is that the aluminum fasteners used with metal structures can't come into contact with composites because it causes a galvanic response on the aluminum. Instead, aircraft OEMs have shifted to the use of stainless steel or titanium fasteners.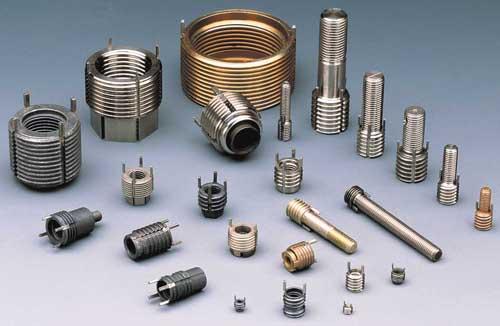 Manufacturers of automated fastening systems have also needed to rethink methods and equipment design. "Everyone knows how to drill holes in aluminum, but holes in composites are more difficult to produce," Ben Hempstead, mechanical engineer lead for Electroimpact, told us. "There's not a lot of industry experience yet, so a lot of inspection is needed in hole prep and to see what's going on in the interlaminar region between the composite and metal components."
Many of Electroimpact's customers are using the company's automatic machines to drill holes and insert temporary fasteners for joining components. The components are then taken apart so the holes and the interlaminar region can be examined. If they all pass inspection, the components are put back together and permanent fasteners are installed by human mechanics. "A lot of this technology has been developed during the past year," said Hempstead. "If you're drilling holes with an automatic machine, you don't want to interrupt it to put in the temporary fastener by hand. So work is going into developing temporary fasteners that can be automatically installed, since you need both different fasteners and different fastening equipment."
Electroimpact has created the Flex Track, a much smaller, handheld, automated drilling system that drills holes for temporary fasteners, or drills holes and inserts them. It is used in aluminum structures, carbon structures, and mixed material structures, for both wings and fuselages.
Some aircraft OEM composite structure programs are further along in development than others, and therefore have a higher level of confidence in assembling large composite structures, said Hempstead. "Some composite fuselage components are permanently assembled by our machines without first installing temporary fasteners, but no wing assembly systems are permanently fastened yet from the start."
He said Electroimpact's customers want to see drilling and fastening of composites done with higher reliability. "They want automated equipment to bang out composite structures like they do with metal structures. So far, we're only doing this for a few customers." Electroimpact expects to get more requests to do fully automated assembly of composite wings.
The major issues that fasteners used with composite materials have to deal with stem from the material's resistivity and irregularity, said Matthew Raskind, industry analyst for the Freedonia Group. The nonconductive nature of composites makes the material less able than aluminum structures to dissipate the current from a lightning strike. When a hole is drilled for a fastener, carbon composites' irregular nature also leaves a machine-induced micro texture.