In that paper, team members described how they solved the problem of making a dielectric elastomer generate energy. According to the abstract, such elastomers switch back and forth between their electrical and mechanical thermodynamic states. This lets them perform the functions of actuator, sensor, and generator, but challenges remain due to electromechanical coupling, complex dissipative processes, and material non-linearity.
Careful and thorough thermodynamic and loss modeling plus experiments resulted in the conclusion that dielectric elastomer generators (DEGs) convert energy at an energy density at least an order of magnitude greater than electromagnetic generators and piezoelectrics. The team has also concluded that natural rubber, which is more durable and less viscous than typical very high bond (VHB) dielectric elastomers, can also convert as much as three times the amount of energy. It's also less expensive, which could lead to portable, high-performance generators.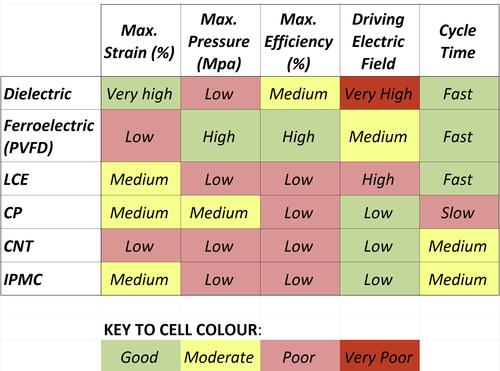 Koh's team expects to file a patent for the robotic muscle materials and the specific activation process. They hope to develop a robotic arm using those muscles within the next three to five years, about half the size of an adult human arm. Other uses besides robots might be more efficient cranes for moving large objects.
According to a recent study on EAPs by IdTechEx, EAPs can be used as actuators and sensors, energy harvesting and storage devices, as well as robotics. In medical devices and robotics, electroactive polymers generate force, enable movement, and electrically control surface properties. Some dielectric elastomers and piezoelectric fluoropolymers are commercially available, but have drawbacks such as a high operating voltage and costs too high for applications such as large-area thin-film sensors, or touchscreens in consumer electronics.
Related posts:



More Blogs from Engineering Materials

0
As the 3D printing and overall additive manufacturing ecosystem grows, standards and guidelines from standards bodies and government organizations are increasing. Multiple players with multiple needs are also driving the role of 3DP and AM as enabling technologies for distributed manufacturing.

4
A growing though not-so-obvious role for 3D printing, 4D printing, and overall additive manufacturing is their use in fabricating new materials and enabling new or improved manufacturing and assembly processes. Individual engineers, OEMs, university labs, and others are reinventing the technology to suit their own needs.

0
For vehicles to meet the 2025 Corporate Average Fuel Economy (CAFE) standards, three things must happen: customers must look beyond the data sheet and engage materials supplier earlier, and new integrated multi-materials are needed to make step-change improvements.

3
3D printing, 4D printing, and various types of additive manufacturing (AM) will get even bigger in 2015. We're not talking about consumer use, which gets most of the attention, but processes and technologies that will affect how design engineers design products and how manufacturing engineers make them. For now, the biggest industries are still aerospace and medical, while automotive and architecture continue to grow.

4
More and more -- that's what we'll see from plastics and composites in 2015, more types of plastics and more ways they can be used. Two of the fastest-growing uses will be automotive parts, plus medical implants and devices. New types of plastics will include biodegradable materials, plastics that can be easily recycled, and some that do both.

Focus on Fundamentals consists of 45-minute on-line classes that cover a host of technologies. You learn without leaving the comfort of your desk. All classes are taught by subject-matter experts and all are archived. So if you can't attend live, attend at your convenience.
Last Archived Class