In that paper, team members described how they solved the problem of making a dielectric elastomer generate energy. According to the abstract, such elastomers switch back and forth between their electrical and mechanical thermodynamic states. This lets them perform the functions of actuator, sensor, and generator, but challenges remain due to electromechanical coupling, complex dissipative processes, and material non-linearity.
Careful and thorough thermodynamic and loss modeling plus experiments resulted in the conclusion that dielectric elastomer generators (DEGs) convert energy at an energy density at least an order of magnitude greater than electromagnetic generators and piezoelectrics. The team has also concluded that natural rubber, which is more durable and less viscous than typical very high bond (VHB) dielectric elastomers, can also convert as much as three times the amount of energy. It's also less expensive, which could lead to portable, high-performance generators.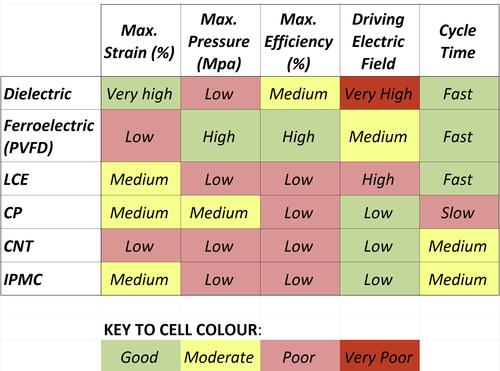 Koh's team expects to file a patent for the robotic muscle materials and the specific activation process. They hope to develop a robotic arm using those muscles within the next three to five years, about half the size of an adult human arm. Other uses besides robots might be more efficient cranes for moving large objects.
According to a recent study on EAPs by IdTechEx, EAPs can be used as actuators and sensors, energy harvesting and storage devices, as well as robotics. In medical devices and robotics, electroactive polymers generate force, enable movement, and electrically control surface properties. Some dielectric elastomers and piezoelectric fluoropolymers are commercially available, but have drawbacks such as a high operating voltage and costs too high for applications such as large-area thin-film sensors, or touchscreens in consumer electronics.
Related posts: