This year, DuPont has again sponsored a survey that tracks the impact of the 2025 Corporate Average Fuel Economy (CAFE) Standards on automotive designers and other engineers. In the 2014 survey, lightweighting is the subject dominating the discussion of fuel-efficiency technologies, but the question of which materials will get them there is not entirely clear.
Nearly 900 subscribers to WardsAuto responded to the 2014 survey, and 49% said lightweighting was their top concern. About 39% said engine efficiency programs, and 26% said electrifying the vehicle, would be their most important focus for meeting the goal.
Click on the image below to start the slideshow.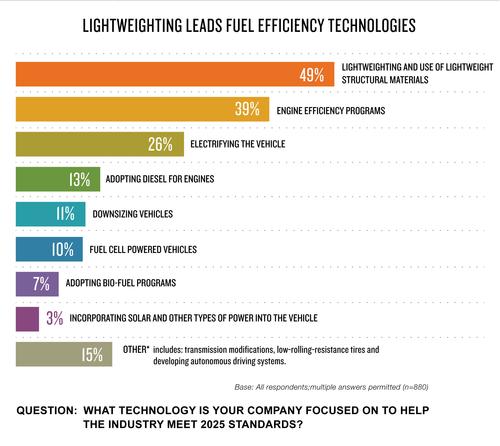 Powertrain systems are the primary target for lightweighting efforts, cited by 24% of respondents. Others cited the chassis -- such as fuel, exhaust, and suspension -- at 12% and body-in-white at 11% as the main targets. Interestingly, the second largest category, 14%, responded that they didn't know.
Materials didn't rate as high this year as the last time we reported this annual survey's results. Then, two years ago, automakers were focused almost equally on breakthroughs in combustion engine performance and improving battery performance, in addition to lighter materials.
This year, when asked which single materials family they were relying on most heavily to help meet the rigorous CAFE standards, respondents cited aluminum at 27%, multi-material solutions at 16%, engineering plastics at 13%, advanced high-strength steel at 11%, and advanced composites at 8%. Once again, a surprisingly large percentage, 18%, responded "unknown."
That may be related to the fact that over half the respondents, 51%, said they were only "moderately confident" in the ability of today's materials to help them meet these upcoming regulations. An additional 25% said they were minimally confident, and 5% were not at all confident. Only 18% were very confident.
Another possible reason for the high percentages of "unknown" responses could be the fact that 66% of respondents said again this year that upcoming mid-term reviews could result in even more tightening of the 2017-2025 CAFE standards. At present, the Environmental Protection Agency standard requires 54.5 mpg on average by 2025 for the industry, fleet-wide.
The survey, now in its fourth year, was conducted by Penton Market Research. The respondents included 45% working for system, component, or parts manufacturers; 25% for an automaker; and 30% for engine, engine-service, engineering/design companies, or automotive-related industries. The overwhelming majority, 64%, perform engineering, design, research, or quality roles. Some 23% work in sales, marketing, purchasing, or corporate management, and 13% are in manufacturing, production, or "other."
Related posts: