The same Wyss Institute/Harvard research group that brought us the autonomous termite-like construction robots are back. Their new algorithm lets them program 1,000 swarming robots to self-assemble into various shapes. That's the biggest robot swarm to date.
These swarming robots are name Kilobots. The small, extremely simple, identical machines are spherical bots a few centimeters in diameter that move around on three skinny, rigid legs that resemble toothpicks. Each bot moves via two vibrating motors that let it slide across surfaces. Each one communicates with its immediate neighbors, and with an overhead controller that programs and controls the robots, via infrared. They also use proximity and ambient light sensors.
Click on the image below to start the slideshow.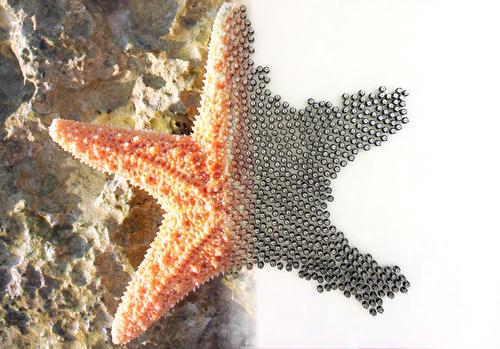 The open-source hardware and software were developed by a team led by Radhika Nagpal, a core faculty member at the Wyss Institute for Biologically Inspired Engineering at Harvard University; and Fred Kavli, professor of computer science at the Harvard School of Engineering and Applied Sciences (SEAS). Nagpal also co-leads Wyss's Bioinspired Robotics Platform and heads the Self-Organizing Systems Research Group.
These self-assembling/self-reconfiguring robots are designed along the lines of a decentralized scheme. Here, every module plans for itself based on information it observes or gathers by communicating with neighbors, in contrast to a centralized architecture where a single agent plans for all the modules. We discussed this in our interview last year with Daniel Pickem, graduate student in robotics at Georgia Tech's GRITS (Georgia Robotics and Intelligent Systems) Laboratory. Generally, he said then, large numbers of robots can be controlled more efficiently with decentralized control schemes.
Wyss Institute Kilobots were designed to make it easier for researchers to test collective algorithms on large numbers of real robots, instead of mere simulations. To demonstrate their abilities, the team has programmed them to form different shapes, including a starfish shape and the letter K. You can watch a video of the little guys showing off their talents below. The researchers describe their research in an article (purchase or subscription) in Science. The lead author is Michael Rubenstein, a research associate at SEAS and the Wyss Institute, and coauthors are Alejandro Cornejo, a postdoctoral fellow at SEAS and the Wyss Institute, and Nagpal.
The Wyss Institute Kilobots are built to a homogeneous architecture, where modules with the same properties are interchangeable and can be easily replaced, a more robust and lower-cost design than specialized robot modules. A decentralized, homogeneous scheme is common for swarming robots. To date, only a few swarms of robots have contained more than 100 individual modules. That's because there are algorithmic limitations on coordinating such large numbers of individuals, as well as the materials and labor costs required to manufacture that many separate devices. This is yet another reason the Kilobots mechanical design has been kept simple: to keep costs down. For example, they're not particularly bright: they run on a standard microprocessor.
Once they receive instructions, the robots don't require further management or intervention to complete their tasks, such as maintaining a sense of relative location, following the edge of a group, or tracking a certain distance from their point of origin. They're also capable of correcting errors. If one Kilobot moves off-course, or a traffic jam occurs, neighboring robots will coordinate their movements to fix the problem.
If you want to build your own, you can find out how to do that on the project page here.
Related posts: