3D printing isn't just for making stuff. It's also enabling the development of new metamaterials that don't exist in nature and that can be designed to do specific manufacturing jobs. Researchers from Lawrence Livermore National Laboratory (LLNL) and MIT have used 3D printing to engineer a new class: super-lightweight, high-stiffness, high-strength metamaterials with the same weight and density as aerogels, but about 10,000 times the stiffness.
Aerogels are already pretty incredible materials. They are gels in which liquid has been replaced by a gas, so they're extremely porous and their cellular structure has extremely low density. Known as frozen smoke or solid air, they are often used for their thermal insulation qualities.
Click on the image below to start the slideshow.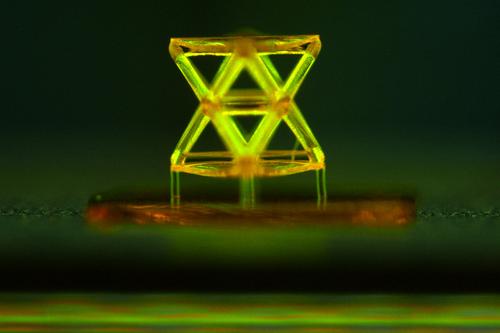 The new LLNL/MIT materials were made using an additive micro-manufacturing technique called projection micro-stereolithography. In partnership with researchers at MIT, Harvard, and the University of Illinois, the LLNL team is working with four different additive manufacturing (AM) micro-manufacturing processes to create new materials composed of microstructures with micrometer resolutions. These processes are projection micro-stereolithography, direct-ink writing, electrophoretic deposition, and microfluidic flow focusing. Earlier this year, LLNL announced the development of its light-directed electrophoretic deposition micro-manufacturing process for making new types of composites.
New metamaterials being engineered with these methods will have different combinations of mechanical and thermal properties, such as strength, density, and thermal expansion, for different applications. The new LLNL/MIT materials, for example, have potential uses in aerospace.
Among other unusual properties, the LLNL team says that, even at extremely low density, the new micro-architected metamaterials maintain a nearly constant stiffness per unit of mass density. This characteristic doesn't change when the constituent material changes, either: the micro-lattices with nanoscale features that the team made with metals, ceramics, and polymers all exhibit this high stiffness. They show super-stiff properties across three orders of magnitude, and can withstand a load of at least 160,000 times their weight. That's quite unlike the mechanical properties of most lightweight cellular materials, which tend to bend under an applied load, so they degrade as density is reduced.
The MIT team says that the geometry of these microstructures was known several years ago, but the means for making them was not possible until now. The MIT team and the LLNL team have been working on the highly precise 3D printing projection microstereolithography process since 2008.
The new materials are 100 times stiffer than other ultra-lightweight lattice materials that have been reported in various academic journals. The teams describe their work in an article in Science magazine (purchase or subscription). It was funded by DARPA and LLNL.
Related posts: