Smart composites that let the material's structural health be monitored automatically and continuously are getting closer to reality. R&D partners in a project sponsored by the European Union called SmartFiber have demonstrated what they say is the first complete, miniaturized, fiber-optic sensor system that can be entirely embedded inside a fiber-reinforced composite.
As we told you last year, this project aims at using RFID wireless communications to transmit data to a network of fiber-optic sensors that's embedded in fiber-reinforced composites. The goal of the project is to develop a structural health monitoring system small enough -- that is, millimeter-scale -- to be embedded in composites used to make airplanes, satellites, bridges, oil and gas wells, wind turbine blades, boat hulls, and propellers. The goal is to generate an ongoing data record about a composite structure that will make it easier for technicians to monitor structural health, decide when maintenance is needed, and give early warning of possible failures.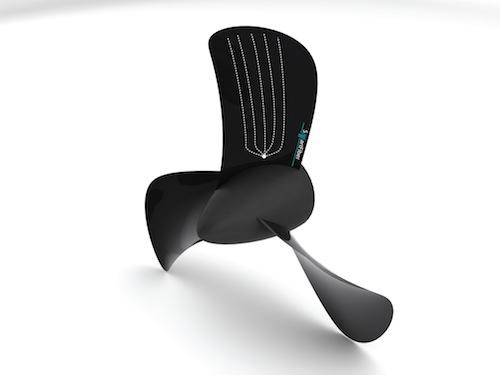 The team constructed a strain sensor that included embedded fiber sensors and an embedded fiber interrogator. This system eliminates an external, potentially fragile fiber that would typically connect an external interrogator to the embedded sensors. Fiber Bragg Grating (FBG) sensors were chosen over other strain-monitoring techniques such as classic electrical strain gauges, because of their compactness, light weight, immunity to electromagnetic interference (EMI), high resistance to corrosion, high temperature operation, and multiplexing capability, according to a press release. The FBG sensors have an exceptionally small diameter and demonstrate extreme elongation at breakage. They were specifically designed to impact the composite material's strength as little as possible.
One of the SmartFiber project's main goals was to come up with an embedded sensor system that could easily fit into a working production environment so as to keep costs down. The team developed automated optical fiber placement techniques to embed the network into the composite material. Silicon-based microfabrication processes in an existing industrial infrastructure were also used. The core of the sensor system is a photonic IC with an arrayed waveguide grating that acts as a spectrometer. This IC is the center of the sensor system, and enables highly accurate interrogation of the FBG sensors connected to it.

The SmartFiber partners that designed and built the embedded sensor system included Imec, Optocap Ltd., Xenics, Fraunhofer IIS, FBGS International, Ghent University, and Airborne International. Optocap assembled the sensor system on a Xenics-designed board. A silicon photonics IC developed by Imec with Xenics-provided photodiodes and read-out ICs comprised the optical subsystem. Fraunhofer IIS developed the wireless interface that provides both power and a high-speed read-out of acquired data. The sensor system was connected to an optical fiber sensor chain made by FBGS International. It was then cast in epoxy in a shape designed by Ghent University to minimize its impact on the composite. The epoxy-covered sensor system, together with its attached sensor chain, was then embedded in a tidal turbine blade made by Airborne International.
You can read about the project in more detail in a whitepaper that can be downloaded here. You can also watch a very, very short video demonstrating the interrogator at work here.
Related posts: