The amount of plastic clogging the ocean continues to grow. Some startling, not-so-good news has come out recently about the roles plastic is playing in the ocean, as well as more heartening news about efforts to collect and reuse it.
As we told you last year, plastics manufacturers and processors have worked for several years to prevent or clean up plastic marine litter. But the damage caused by these materials to the world's oceans, especially wildlife, continues. Some truly weird news includes the formation of a new geological material found on Hawaiian beaches called "plastiglomerate," formed of plastic particles combined with rock fragments and beach sediment.
Click on the image below to start the slideshow.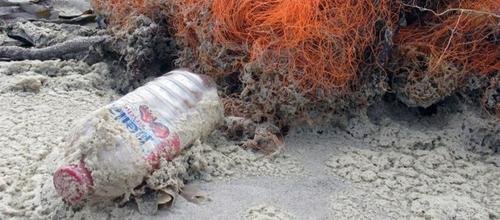 Ocean-going plastic waste causes at least $13 billion worth of damage to marine ecosystems each year, according to a report sponsored by the United Nations Environment Programme (UNEP). The report, "Valuing Plastic," was produced by the Plastic Disclosure Project. It found that marine pollution is the largest downstream cost of damage caused by plastics in the environment. Sources include improperly managed landfills, tourist activities, fisheries, and littering. Although some debris sinks to the bottom of the ocean, much of it ends up floating long distances to pollute shorelines or accumulate in the notorious mid-ocean gyres. Plastic waste damages coral reefs, becomes entangled in fishing equipment, is ingested by marine animals and birds, provides a source of chemical contamination, and makes a mess of your favorite beach. I'm especially aware of that last one, since I live not far from Santa Cruz, Calif., and have participated in regular beach cleanups.
Concern has also grown about microplastics, defined as particles smaller than 5 mm in diameter. These occur when larger pieces break down, or as microbeads added to consumer goods like toothpaste and cosmetics. They are ingested by all kinds of marine and freshwater life, including birds, fish, shellfish, worms, and zooplankton. It's also just been discovered that microplastics can even be absorbed by breathing, at least by animals with gills like crabs. Illinois has just become the first state in the US to ban plastic microbeads in consumer goods.
Microplastics can last hundreds of years without breaking down further, and it's not yet clear how far up the food chain they travel, i.e., whether humans are ingesting them by eating seafood and fish. They were detected in 88% of the surface water of the oceans sampled during the 2010-2011 interdisciplinary Malaspina Expedition that circumnavigated the world, according to a press release from the Spanish National Research Council.
A University of Cadiz-led study used data gathered by the Malaspina Expedition, as well as previously published reports and regional surveys. Although the worldwide distribution of surface plastic debris is mostly concentrated in the five mid-ocean gyres, the study found far less of the ocean's plastic particles than expected on the surface, as described by the team's article published in the journal PNAS.
Particle size distributions of the global load of surface plastic indicate that millimeter-sized fragments are missing on a huge scale. The team concluded these microplastics may be fragmenting into micron-sized particles in size-selective "sinks" where plastic particles occur. These sinks then transfer the particles to the oceans' interior via food webs, ballasting processes, and by processes not yet discovered.