Engineers at Purdue University have come up with a novel way to make stretchable electronics that expand to five times their original length. How? By sewing wire interconnects on a very stretchy elastomer using a regular commercial sewing machine.
The process is fast and relatively inexpensive, compared to attempts by other researchers that involve complex microfabrication techniques, or systems based on extraordinarily thin wires that bend or break, or microchannels filled with liquid metals. All of these methods are being developed for the purpose of enabling human-like skin embedded with sensors for soft robotics, or medical implants like synthetic muscles, or wearable electronics.
Many attempts at, for example, wearable electronics have focused on making flexible circuits, such as the flexible image sensors printed on plastic we told you about last year. These flexible circuits are now used in applications such as watches and other small electronics. But making them larger has been a challenge, and the types of electronics that can be printed with them have been limited.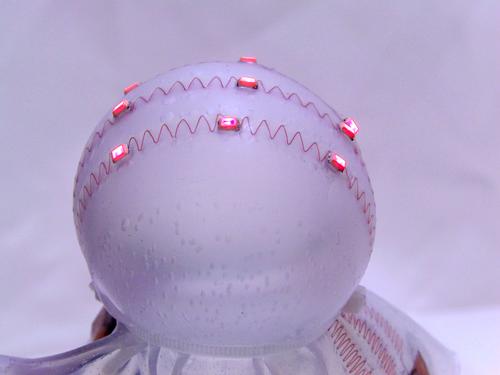 The Purdue solution is so simple it seems stupefyingly obvious in hindsight. Instead of trying to make stretchable circuits, this design bunches up the circuits on a flat plane and makes only the plane itself stretchable. It starts with conventional thin-metal wire, which is sewn with two threads -- one of which is water-soluble polyvinyl alcohol thread -- in a zig-zag pattern onto a sheet of polyethylene terephthalate (PET). PET is, of course, the same material used in clear plastic bottles, as well as to make clear overhead projector transparencies. A stretchy silicone elastomer, called Ecoflex, is poured over the sheet so it encases the wire during its cure time. Then warm water is used to dissolve the PVA thread, and the PET sheet is separated from the flexible silicone. Ecoflex, made by Smooth-On, is typically used for making prosthetics, such as for special-effects masks and all kinds of creepy skin effects used in the movies.
The team says the remaining silicone sheet containing the zig-zag interconnect can be stretched up to five times its original length. Since the wire itself isn't stretching, only the interconnect structure and the elastomer, there's little potential damage. Circuits created with this method can undergo thousands of stretch-and-release cycles with no noticeable change in resistance.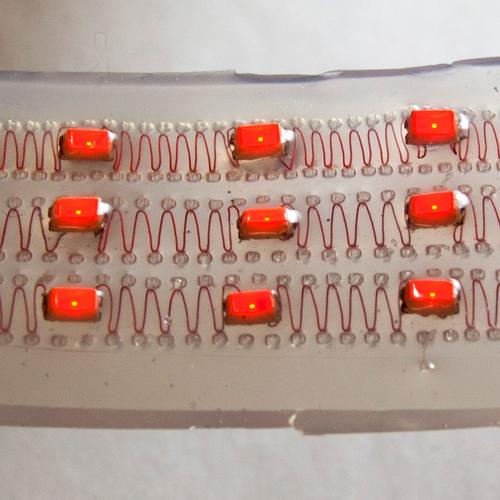 Led by Babak Ziaie, a professor in the School of Electrical and Computer Engineering and the Weldon School of Biomedical Engineering, the researchers have demonstrated the concept in a strain sensor used to monitor the expansion of an inflatable urinary catheter balloon. The extra-stretchy abilities of this strain gauge make it possible to measure a much larger percentage of deformation than can rigid metal film gauges, which break after only a small percentage of deformation.
The team presented its research, which was funded by the National Science Foundation, in a paper last month at the Solid-State Sensors, Actuators and Microsystems Workshop. Other team members are doctoral candidates Rahim Rahimi, Manuel Ochoa, and Wuyang Yu.
Related posts: