This is definitely not for everybody. I will not be getting in line to sign up for extra robot arms from MIT. They make you look too much like a multi-legged insect. But I know some of you will want your very own pair.
Right now, though, the arms are only prototypes being developed for use in aircraft assembly. Researchers at MIT's d'Arbeloff Laboratory are developing them under a project called Supernumerary Robotic Limbs. Not only do they envision humans using extra robotic arms, but also eventually using extra robotic legs. These extra limbs, which team members call a co-robot, will act as a natural, intuitive extension of the body. The goal is for the human wearing them to forget they're there because the limbs' movements will be so tightly coupled and closely coordinated with the human's own movements. Watch a short video below demonstrating how the shoulder-mounted prototype robot arms' movements are coordinated with the movements of the arms of the human wearing them. As you can see, it's not very smooth yet.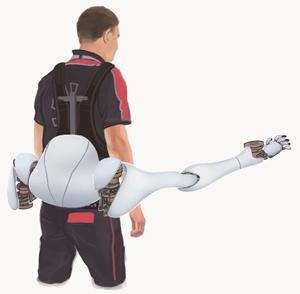 One of the lab's teams is developing a hip-mounted version of the robot arms as well as the shoulder-mounted version. Each version comprises a mechatronic structure with a backpack unit containing actuators and two robotic arms, attached to a harness with padded straps and a hip belt. Although some of the basic technology is similar to technology used for developing prosthetic limbs and exoskeletons, both sets of the robotic limbs are made for healthy people with normal limb functioning who just need an extra set of arms.
Much of the R&D is focused on helping workers in an aircraft manufacturing setting to perform difficult or complex assembly tasks that would normally require two people. As we've told you, in aircraft assembly conventional industrial robots don't perform well because the tasks are not the type they're used to: highly repetitive and fixed in one location. According to an article in IEEE Spectrum, a large part of the research is being funded by Boeing.
Lab researchers presented their latest prototypes in conjunction with three papers presented at the 2014 IEEE International Conference on Robotics and Automation: "A Robot on the Shoulder: Coordinated Human-Wearable Robot Control using Coloured Petri Nets and Partial Least Squares Predictions," by Baldin Llorens-Bonilla and H. Harry Asada; "Bracing the Human Body with Supernumerary Robotic Limbs for Physical Assistance and Load Reduction," by Federico Parietti, Kameron Chan, and H. Harry Asada; and "Supernumerary Robotic Limbs for Aircraft Fuselage Assembly: Body Stabilization and Guidance by Bracing," by Federico Parietti and H. Harry Asada.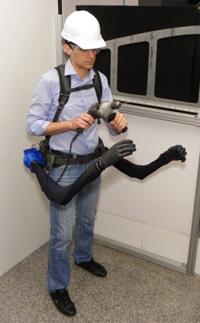 The shoulder-mounted pair of robot arms can be used to assist the human wearing them in overhead workspaces, such as installing or repairing a ceiling panel. The robot arms can hold the panel while the human arms are using tools. This Robot-on-the-Shoulder system design takes a new approach to control for coordinating the concurrent, distributed robot and human arm movements. According to the papers' abstracts, it uses a graphical task process representation based on colored Petri nets (CPNs) to model the human-robot system, with local dynamic controllers embedded in the CPN model's transition nodes to extend the CPN's framework to a hybrid control system.
The hip-mounted robotic arms can be used to reduce loads by bracing the human body, such as against a wall, when workers are hunching over, squatting, or reaching up to the ceiling. They can also perform tasks such as holding or clamping objects to a fixture, or guiding and supporting the human's hands by placing a drill jig over a drilling location to improve drilling stability and accuracy.
Related posts: