The 3D printing of metal parts has been advancing, in medical implants, aircraft components, and aircraft engines. Even complex lattice structures are not unusual, as Within has demonstrated in titanium implants. Now engineers at UK-based building design firm Arup have come up with a design method for 3D printing structural steel elements to be used in construction projects.
Interestingly, the curved lines of the first element, a steel node, resemble in a general way the "liquid lattice" structures Within designed for an automotive load-bearing engine block, using EOS's direct metal laser sintering (DMLS) process, as well as the turtle skeleton-inspired car body designed by the German firm EDAG Group. They are all beautiful art as well as elegant engineering design.
Click on the image below to start the slideshow.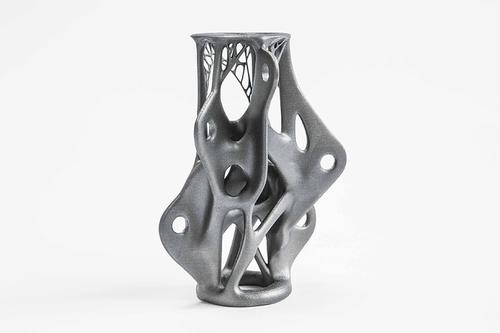 Also of interest is that Arup says it worked with both Within and CRDM, a 3D printing and prototyping service bureau acquired by 3D Systems that targets the aerospace, automotive, defense, consumer, and medical sectors for prototyping, pre-production, and full production parts. CRDM uses EOS DMLS machines and recently made several props and costumes for the Tom Cruise movie Edge of Tomorrow, including the stars' exoskeleton suits. EOS also collaborated with Arup during the beginning of the technology's development.
Arup's structural engineers say redesigning the steel node for a lightweight structure so it could be 3D printed resulted in a more efficient, individualized piece. Using 3D printing for making structural steel building elements will also reduce costs and cut waste. It will especially enable highly sophisticated, complex designs that don't have to be simplified later on during a project in order to cut costs.
The company's engineers have previously designed several lightweight, large, complex structures such as 470-meter-long pedestrian Kurilpa Bridge in Brisbane, Australia. That multi-mast cable-stay structure was designed using tensegrity principles, a term coined by Buckminster Fuller that combines "tension" and "structural integrity." The global distribution of force through a non-rigid structure, such as those found in natural forms like cells, gives maximum strength without adding weight, and minimizes the number of points of local weakness. NASA has used tensegrity principles to design its Super Ball Bots.
Arup says it's at the forefront of designing the complex geometry, tensegrity-based structures. The company has also designed bridges and structures based on unusual forms, such as the world's first curved double-helix bridge in Singapore, the improbable-looking China Central Television headquarters in Beijing, as well as high-rise buildings, airports, and hospitals.
Related posts: