The innovative 3D printing materials company MadeSolid -- maker of recyclable, ABS-like PET+ filament -- is now selling an investment casting resin for metal parts. The company says the resin costs a lot less than previous alternatives and can be used with multiple consumer-grade printers -- an industry first.
Sam Bozek, MadeSolid's quality control chemist, told us the FireCast resin can be used to make casts for jewelry and other metal objects. It's been specifically formulated to work with 3D printers that require UV-curable resins, such as SLA and digital light processing printers, including Form1, B9 Creator, and Deep Imager 5. The resin burns at two stages for the cleanest burnout. The first stage occurs at 540°F, which gets rid of the initial residue, followed by a second stage at 1,200°F to remove any remaining pieces.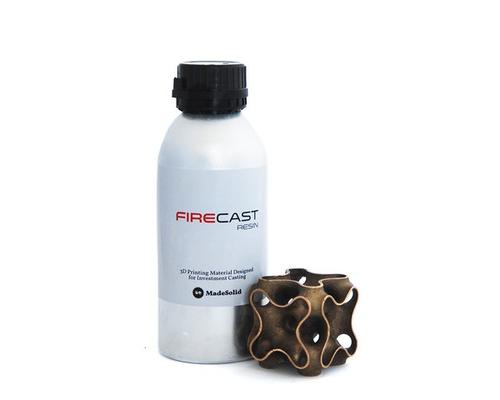 The company has been working with casters and beta testers around the country, particularly the Mind-2-Matter casting group in San Leandro, Calif. These casters helped MadeSolid formulate the material so it meets standard casting requirements. Bozek said one of the main things to look for in a castable resin is clean burnout -- all the material should be evaporated, so there's no ash or residue after heating -- and FireCast achieves that goal.
The lost-wax method was previously used to investment cast jewelry. This process starts with a handmade wax model, which is cast in plaster or another material. The wax is melted and burned away in an oven, leaving a mold. "This process takes a lot of skill, especially making the wax model by hand," Bozek said. "Being able to 3D print a cast saves time. You also have access to a much finer degree of resolution with 3D printers that you can't achieve when making models by hand." Doing it the old way, a jeweler required at least 15 hours to make one ring, but now casts for three rings can be 3D printed in one hour.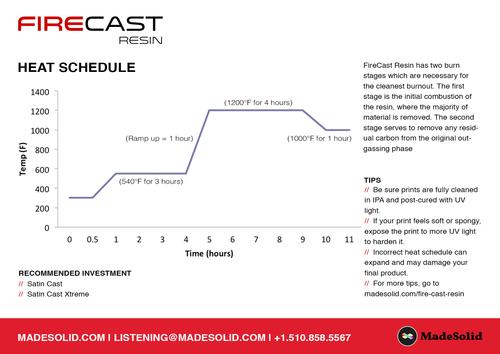 Casting-specific resins for 3D printers aren't a new idea. There are casting resins that cost about $600 per liter, Bozek said, but they work only with a single manufacturer's machine (which costs around $20,000) and are available only from that machine's manufacturer.
No casting-specific resins existed for consumer-grade printers, he said, so MadeSolid addressed this neglected area. "Our resin is compatible with many printers, and it's especially aimed at consumer-level machines that cost $5,000 and below."
FireCast is priced at $199 per half-liter bottle. It will be interesting to see what new materials this company develops next.
Related posts: