Almost two years after we told you about another carbon composite wheel, SABIC and Kringlan Composites have announced they're developing one. The companies say the material is a thermoplastic, not a thermoset, composite, and that the matrix material is based on SABIC's ULTEM resin.
As we've told you before, the carbon composites that have long been used in aerospace are traditionally based on thermoset materials. More recent attempts to make materials that fit automotive production needs focus on thermoplastic resins, which reduce production time.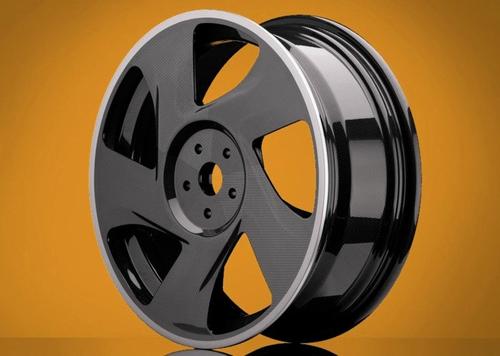 The two companies said in a press release that they have been working on a specific prototype wheel design for a German carmaker (which they did not name), and other automotive OEMs have also shown interest. But SABIC and Kringlan don't expect the material's application to be confined to automotive uses. Other industries can make use of its lighter weight. For example, washing machines can take advantage of the composite's weight reduction to reduce the amount of energy it takes to start the drum moving.
"Combining SABIC's high-performance ULTEM resin with Kringlan's proprietary three-dimensional manufacturing technology for carbon composites offers OEMs the opportunity for reduced weight, lower production costs, as well as material recyclability," Thierry Materne, vice president technology and innovation for SABIC Innovative Plastics, said in the release. "When compared to other thermoplastic materials, the ULTEM resin composite concept offers superior strength at high temperatures, dimensional stability as well as resistance to chemicals."
Kringlan was founded in Switzerland specifically to develop high-performance thermoplastic composites. Its ongoing thermoplastic carbon composite wheel project has served as an example of what the material and careful design can do. Kringlan says its manufacturing process is geared toward high volumes, short cycle times, and in-house recycling of production waste and end-of-life materials.
The two companies that they are working with other industry partners (which they did not name). In September, Kringlan revealed it was working with the aerospace composite manufacturer TenCate to develop thermoplastic composite technology for automotive manufacturing. In the announcement, Kringlan said that TenCate was involved in developing the carbon fiber composite material that had been qualified for Kringlan's all-composite wheel, and that the next step would be production manufacturing. TenCate has also worked with BASF on automotive composites and is well known for its contributions to aerospace, such as the composites on the Maven spacecraft headed for Mars.
Related posts: