igus is making its tribopolymer technology available in a 3D printing filament. That's right -- the plastic we've told you about that integrates lubricants to make the company's iglide plastic bearings and bushings now comes as a 3D-printable filament.
This Tribo-Filament is up to 50 times as resistant to wear and abrasion as conventional 3D printing materials such as ABS, Nicole Lang, iglide product manager, tells Design News. "Some people will be 3D-printing replacement parts, while others will make prototypes for igus-type custom parts," she says. "It can be used to create anything in the realm of 3D printing technology, including workable parts for motion applications." The filament is compatible with any filament fusion printer that has a heated nozzle and print bed, and uses ABS filaments.
Click on the image below to start the slideshow.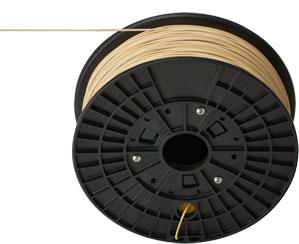 Millions of iglide plastic bearings and bushings, along with chain cables and chain carriers, are doing heavy-duty work in applications like automotive, aircraft, and industrial, which I still find remarkable. The tribological, or low-friction, polymer technology integrates solid lubricants throughout the thermoplastic matrix in microscopic particles. In response to friction when the bearings move, these particles are then dispensed in tiny amounts. The superiority of parts made with the material over metal parts is due to their lighter weight, lack of corrosion, longer life, need for less maintenance, and silent operation. You can find more information about plastic versus metal bearings in this whitepaper.
igus didn't just come out with this new Tribo-Filament yesterday. The company has been researching a 3D-printable filament made of its tribological material for some time, in response to customer requests for the ability to design their own custom parts and make their own prototypes, Lang tells us. The company already makes available 45 different optional high-performance plastics for its iglide line, and 100 more custom materials for customer-specific needs. 3D models of igus products in STL format can be downloaded from the company's online 3D-CAD library and used as input data for 3D printing with the new filament. You can reserve a starter kit for 3D printing your own iglide bearings here.
The new Tribo-Filament has been tested extensively in igus's lab in Cologne, Germany. Two different materials in two different diameters are available: I170-PF, which comes in yellow, has a better linear wear rate than I180-PF, which comes in white, says Lang. I180-PF is more flexible than I170-PF, and has a slightly higher processing temperature. The 1.75 mm diameter of I170-PF is available now in small samples, and production volumes will be available this month. The 3.00 mm diameter of the I170-PF will be available at the end of July. The 3.00 mm diameter of I180-PF will be available at the end of June, and the 1.75 mm diameter will be available at the end of July.
Related posts: