Three Stanford University graduate students have developed open-source technology that 3D prints conductive traces and plastic in one pass. Their startup, Rabbit Proto, is selling a single liquid syringe extruder that plugs into a filament fusion printer, a plug-in replacement dual extruder, and an entire dual-extrusion 3D printer.
Filament fusion printers equipped with both extruder heads can deposit conductive ink on 3D surfaces (or inside a plastic printed object) and print the plastic part. This promises to speed up the design and prototyping of small electronic devices, such as game controllers and wearable electronics. The main product, also called Rabbit Proto, integrates both printing functionalities in a dual-extruder system that can be plugged into a wide variety of printers.
Click the image below to start our slideshow on the process.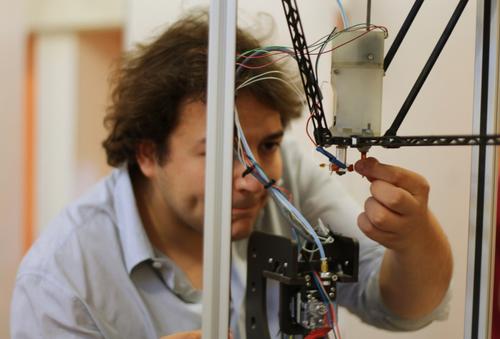 "Our goal is to bring embedded 3D-printed electronics to the maker community," according to the startup's website. Rabbit Proto is compatible with RepRap printers that have a dual-extrusion board, such as RAMPS and RAMBo. The team has also installed its syringe extruder on a Prusa Mendel Iteration 2 and a Rostock MAX. It can be modified to work on several kinds of 3D filament fusion printers, and the team is soliciting interest from users and 3D printer manufacturers.
"We want to bring this dual-extrusion technology for printing electronics to more than the niche market that it's in now," Manal Dia, operations wizard for Rabbit Proto, told us. "We also want to expand it to more materials types. Our goal is to print two materials from one printer: plastic and a liquid. We are pushing this toward prototypes in applications involving creating interactive hardware interfaces. These hardware interfaces may have complicated circuit patterns, including wires, capacitive touch sensors, and/or distance sensors, like game controllers."
You can watch a video of the extrusion process making a game controller prototype here. The team has also drawn interest from schools in using Rabbit Proto 3D printers for educational purposes, as well as from users who want to build artistic interfaces for wearable devices or smarter human-machine interfaces.
As performance improves, team members envision additional applications in the medical field, such as wearable and customizable interfaces for learning or re-education of patients with special needs, as well as augmented casts or corsets integrating sensors or actuators for better orthopedic immobilization, Dia said. Others include sensing-capable 3D-printed body parts for surgical training and device testing. Aerospace, automotive, and industrial applications may include printing vehicle components that embed wires, fully enclosed and waterproof circuits, wire routing for better vibration or aerodynamic performance, better cable management, and improved diagnostics for wiring defaults.
Dia, who has a master's degree in electrical engineering and computer science from MIT, is finishing a JD at Stanford Law School. The other team members are Alexandre Jais, Rabbit's 3D printing guru; and Rohan Maheshwari, Rabbit's roboticist. Both Jais and Maheshwari are finishing an MS degrees in chemical engineering at Stanford. All three are scheduled to graduate this month, and they plan to start shipping products mid-month. The open-source project's source code, documentation, and sample designs are available on GitHub.
Most of Rabbit Proto's electronics R&D work has involved highly viscous conductive ink from Bare Conductive. Other conductive pastes would work in the syringe extruder, as long as they fit inside a 10cc syringe, Dia said. The researchers even used peanut butter in a demo. They have posted videos of a 3D-printed circuit example and of a simple PCB prototype being printed.
The niche market Dia cited includes two types of 3D-printed electronics we've discussed before. Last year, we introduced you to Optomec's Aerosol Jet technology, a conformal printed electronics process. Its aerosol jet spray technique, an industrial high-end solution, achieves feature sizes down to 10 microns, versus Rabbit Proto's 1 mm. It's also not integrated with a plastic 3D printing system, though Optomec and Stratasys, a leader in 3D printing plastics, have been working on that project for some time.
Another example is the conductive plastic composite we discussed in 2012 from University of Warwick researchers in the UK. The material can be used with low-cost, hobbyist 3D filament fusion printers to make working, functional electronic devices. However, as Dia told us, this material is not really suited to conducting current.
"In contrast, Rabbit Proto gives the ability to print multiple materials with different properties, such as resistivity, and even maybe semiconductors in the future," she said. "We think this is one exciting way of increasing freedom around what 3D printers can deposit. New materials will come with awesome properties, and the liquid/paste form is the quickest way to put them in people's 3D printers."
Related posts: