Consolidation is happening in 3D printing and prototyping. Not long after 3D printing leader Stratasys bought two service bureaus, rapid prototyping service bureau extraordinaire Proto Labs has embraced the technology by buying a service bureau focused solely on additive manufacturing (AM). Before this acquisition, Proto Labs has concentrated on CNC machining and injection molding for its quick-turn manufacturing services.
The service bureau is FineLine Prototyping, and it's got a healthy range of AM technologies: SLA (stereolithography), SLS (selective laser sintering), and DMLS (direct metal laser sintering). Its customers are corporations in industries such as medical, aerospace, computer/electronics, consumer products, and industrial machinery. The company is known for high-quality, precision, rapid prototype parts, especially small, highly detailed parts including micro-fine resolution SLA. Its 3D Systems machines include Viper SLA, iPro SLA, and SinterStation Pro SLS. FineLine also operates the Concept Laser M2 and Mlab machines for metal AM.
Click on the image below to start the slideshow.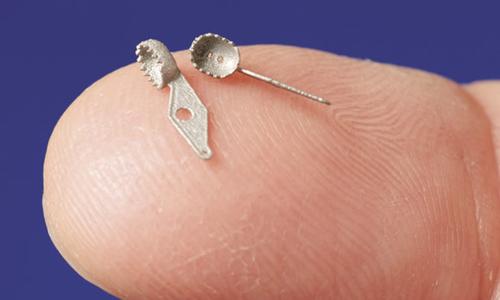 Proto Labs president and CEO Vicki Holt said, during a conference call, that the combined organizations will offer product developers parts in an ever broader set of materials and processes, from concept models, to form and fit testing, to functional testing and short-run production, in as little as one day. Additive manufacturing services are complementary to Proto Labs, not competitive with it. "We've found in surveys of our customers that a majority of product developers have had at least one additive manufacturing part made before they bring us their designs," she said. "So this lets us offer a new service. We believe our combined organizations will have the largest potential user base in the world for additive manufacturing." Holt, who joined the company in February, said Proto Labs has 300,000 customers and FineLine brings an additional 17,000.
FineLine's principals Rob Connelly and Craig Goff will lead Proto Lab's additive manufacturing business and operations. Connelly has been named vice president of additive technology, and Goff is now director of operations for additive technology, Holt said.
Last month, Proto Labs also added two new quick-turn injection molding processes to its existing Protomold plastic molding service. It now offers liquid silicone rubber (LSR) and stainless-steel metal injection molded (MIM) parts as a standard option. Protomold is the company's proprietary technology that lets its technicians analyze part geometry, give customers design and manufacturability feedback about the part, and produce tooling. The company's volumes for both LSR injection molded and MIM parts are typically 25 to 5,000 pieces.
Related posts: