What if you could get a 3D printing filament that's strong like ABS, but easier to use like PLA, and more flexible than both? Better yet, what if it was also recyclable? A startup 3D printing materials company, MadeSolid, is offering that material -- it's called PET+.
Founded last year, MadeSolid is an independent materials company that also does R&D on new materials for filament and UV-curable printers. As many of us are aware, an open 3D printing materials market with third-party suppliers doesn't yet exist in the industrial or commercial space: most materials are sold only with compatible printers from the major manufacturers. Lots of materials -- even wood -- are available for low-end consumer and maker printers, especially filament fusion machines. But these are mostly polymers, they're not usually engineering-quality, and they don't come in much variety.
Click on the image below to start the slideshow.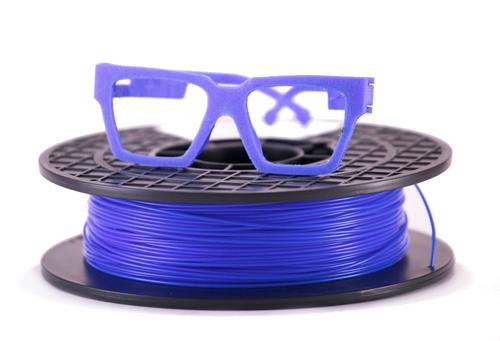 MadeSolid aims to help fill that gap by making more and better materials with improved mechanical strength that are also easier to use. Brian Martinez, COO and co-founder, tells Design News the company was founded in January last year, and started selling products last fall. Combining the typical startup difficulties with serious R&D is no easy feat. "Originally we were self-funded," he tells us. "But we started getting held up with orders, so we realized we needed outside (financial) help." The company's staff worked with Y Combinator, a financial incubator in Palo Alto, Calif., to get some outside funding. The company ships to 28 different countries and is expanding its reseller network worldwide.
Aside from PET+, MadeSolid makes and sells a photopolymer resin called MS resin for SLA and DLP (digital light processing) 3D printers, as well as an investment casting resin for making prototypes and molds.
PET (polyethylene terephthalate), the key ingredient of most plastic bottles, is the most commonly recycled plastic. The company's PET+ filament works with most fused filament 3D printers. It's tough and doesn't break easily, doesn't absorb water, adheres easily to glass and heated beds, and is best suited for making wearable items and prototypes. You can access a list of compatible machines here and a data sheet here. Printer settings and an MSDS sheet are also available on the website.
MS Resin has been formulated with a lower viscosity than most resins, which makes it easier to clean from vats and printed objects. MSDS sheet and printer settings are available on the website. The investment casting resin has been formulated for consumer-grade printers that require UV-curable resin, leaving no ash or residue. It's designed for printing high-resolution prototypes and molds that can then be taken to an outside foundry for casting the part in metal, such as jewelry, said Martinez. The formula is currently being beta-tested by casters around the country, and production is expected to begin soon.
I asked Martinez if MadeSolid will develop and sell strictly polymers, or also move into metals, which require very different manufacturing and marketing processes. He didn't answer my question directly, but did say the company is looking into a variety of new materials and plans on releasing three or four new products by the end of this summer.
Even though it's a new supplier, Lux Research analyst Anthony Vicari mentioned MadeSolid in a press release describing the firm's latest study on 3D printers, materials, and printed parts. He said it's one of four independent 3D printing materials companies that offer "high potential." Stay tuned for a blog on that study coming soon.
Related posts: