We've told you about lots of aquatic robots designed using biomimicry principles, such as robotic jellyfish, sea turtles, and tuna. Now there's a robotic razor clam -- actually a digging robot -- that digs into sand with high efficiency by turning surrounding soil into liquid goop resembling quicksand.
The entire apparatus doesn't look anything like the Atlantic razor clam (E. directus) that inspired it. But the small mechanism that mimics the clam's valve operation works in very similar ways. Amos Winter, a professor of mechanical engineering at MIT, led the research team that developed the RoboClam. He began working on the digging mechanism as a graduate student with Anette Hosoi, a mechanical engineering professor and team member.
Click the image below to start a slideshow on the digging robot.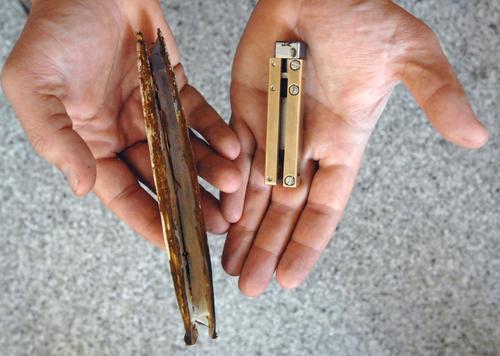 A mechanical version of the razor clam could be used to tether small underwater robotic vehicles, like the remotely operated vehicles we've told you about for monitoring environmental conditions at sea. It could also detonate mines that have been buried in the ocean floor, and it could help install subsea cables.
Why a razor clam? As this video shows, it can dig much deeper into wet sand and wedge itself in more securely than might be thought possible, based on its small size. In an article published in the journal Bioinspiration & Biomimetics, the research team says the razor clam is much faster than a human digger. Given its strength, shape, and size, the razor clam should be capable of burrowing only a couple of centimeters into wet sand, but its burrow depth is more like 70 cm.
When team members measured soil deformations around a burrowing clam, they discovered the clam expands and contracts its valves to fluidize the surrounding sand. This helps reduce drag considerably while it digs with its long, tongue-like foot, and it reduces the energy needed to reach a given depth tenfold. "For engineers, localized fluidization offers a mechanically simple and purely kinematic method to dramatically reduce energy costs associated with digging," the paper says.
Inspired by the razor clam, the team developed a 3.5-inch-long robotic effector mechanism that mimics the clam's valves as they open and close.
A genetic algorithm continuously records and configures different variables while the robot works. It finds optimal digging kinematics and continually improves its performance in succeeding configurations. These features give the RoboClam "localized fluidization burrowing performance comparable to that of the animal, with a linear energy-depth relationship, in both idealized granular glass beads and E. directus' native cohesive mudflat habitat."
The researchers tested the mechanism in mudflats by building a control platform for the robot -- two pneumatic pistons that move the effector mechanism. The team conducted more than 300 tests. The RoboClam achieved the same amount of soil fluidization as an actual clam, and it dug into the soil almost as efficiently. You can watch a short video of some of those tests here.
The team is working with Bluefin Robotics, which we discussed last month. Bluefin makes a robotic underwater vehicle involved in the search for the missing Malaysian airliner.
Related posts: