I think it's a lot of fun when two different trends I'm following come together, like 3D printing and robotics in that UAV we told you about recently. Now bioplastics and 3D printing are coming together in 3D-printed filament materials. Bioplastics formulator and manufacturer Sierra Resins and distributor 3D Printlife are working together to introduce a new biofilament for 3D printers.
Sierra Resins is known as a maker and licensor of polymer additives that trigger most molded compounds to break down in landfills associated with landfill-to-energy operations. 3D Printlife distributes 3D printers for home and business use, as well as filament and design templates.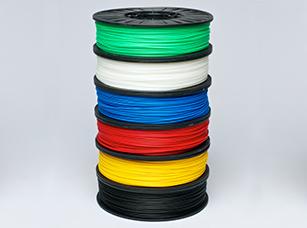 Sierra Resins says initial test runs have been done on a 3D-printing biofilament based on a type of bioplastic formulation that's currently in production for film and injection-molded products. This grade showed good processability, smoothness, and adherence to tolerances. You can watch a short video showing a test run here. The filament will be submitted to an independent ASTM-certified biodegradability testing laboratory.
The company has also submitted 3D filament samples into an actual bioreactor landfill environment for testing by researchers, John Tersigni, president and CEO of Sierra Resins, told Design News, in an email. "While it's important to be measured against a simulated landfill environment that encompasses internationally recognized testing standards, our thinking was, why not place it in an actual landfill-to-energy environment and compare results?" he wrote. "You can never have enough environmental test data."
The initial focus is on a bioplastic ABS. Tersigni explained that a recent research report by MarketsandMarkets on 3D printing materials cited ABS, nylon, and PLA as being the main plastics used. Sierra Resins estimates that about two-thirds of that market is for ABS filament as the carrier resin. The company also sees opportunity in a PET-based 3D printing filament, due to PET's strength and flexibility. "PET is also good for clear components for rapid prototyping," Tersigni wrote. "In addition, our new PET formulas, some of which we believe will perform for 3D printing, tie into our sustainable packaging strategy for cosmetic bottles, other consumer bottle applications, and thermoformed blister packs for retail display. Our 3D ABS biofilament introduction, along with our PET-based product development, is a direct response to PLA-based materials, at a very competitive price."
3D Printlife sells to households and small businesses with an e-commerce model and digital platform. Since there are many more small businesses and households than large enterprise businesses, Tersigni said this exposure will give Sierra Resins a lot more initial feedback about the new material. The biofilament will be initially available in typical ABS filament colors, including white, black, red, blue, yellow, and green, plus transparent and a natural color.
Related posts: