A year ago, we told you about the first spacecraft fuel tank from NASA and Cobham Life Support that could fall apart harmlessly when re-entering the Earth's atmosphere. Its secret? Carbon composites was one of them. Now NASA and Boeing have developed a huge, carbon composite cryogenic fuel tank for deep space missions, which they started testing last month.
As it was for the earlier demiseable tank, NASA is interested in carbon composites for the 18-ft-diameter cryotank because of the much lighter weight and fuel savings they can bring while maintaining strength comparable to metals. NASA says this savings will be about 30% in weight and 25% in cost over the highest-performing metal tanks currently available.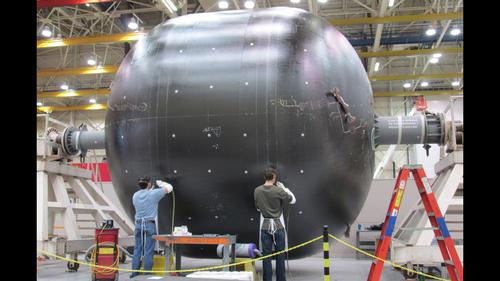 The new tank is one of the biggest ever made of composites, and the agency has achieved this milestone in part by tweaking the composites manufacturing process, said John Vickers, program manager of the Composite Cryotank and Technologies Demonstration project at the Marshall Space Flight Center, where the tank is now being tested, in a press release. "We have improved composite manufacturing without adding risks or costs to any of NASA's current projects," he said. "We want to advance this technology, so tanks are ready as NASA's Space Launch System, the largest most powerful rocket ever built, evolves." In NASA's vision, these heavy-lift launch vehicles will send both humans and robots into deep space. Other in-space applications include landing systems and propellant depots.
Tests were performed successfully last year at Marshall on a smaller, 8-ft-diameter version, which, like the new one, was manufactured at the Boeing Developmental Center in Tukwila, Wash. Both were designed and built by a team that combined NASA engineers with engineers from Boeing Research & Technology, the aircraft maker's advanced R&D group. Among other things, Boeing contributed its expertise in building large carbon composite structures for aircraft. This included experience in automated fiber placement of oven-cured materials, a fiber placement method of the all-composite tank wall that eliminates leaks, and some new tooling that doesn't require heavy joints, which also avoids leaks, according to a fact sheet. You can watch a video here showing some of the robotic manufacturing process.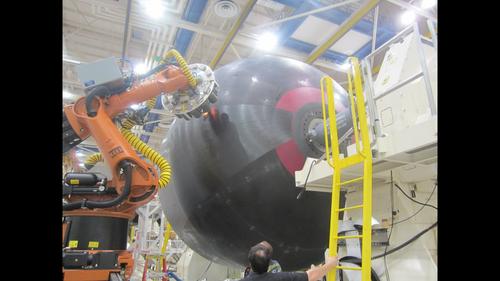 In another video, at 1:53, Dan Rivera, Boeing's cryogenic tank program manager, says that both the new 18-ft tank and the 8-ft tank were built using new, out-of-autoclave material. That's a very big deal in aerospace carbon composites, due to the expense and time required when carbon composites are produced in autoclaves, which are essentially huge pressurized ovens. Instead, the composites that form the tanks are cured in smaller, less expensive ovens.
Testing has begun on the new tank, and will include structural and pressure tests that simulate conditions during space flight. Test will continue throughout the summer.
Related posts: