Lots of new car ideas come out of the Geneva International Motor Show. This year's, held March 2 through 16, was no exception. Besides the Biofore Concept Car, premier German engineering firm EDAG Group showed a single-piece, 3D-printed car body design inspired by a turtle.
The EDAG Genesis is a beautiful piece of art plus engineering skill. But it's more than that. It results from the firm's experiments with, and analysis of, several different additive manufacturing (AM) processes: selective laser sintering (SLS), selective laser melting (SLM), stereolithography (SLA), and fused deposition modeling (FDM). EDAG designs cars, planes, and other vehicles with the aim of optimizing them for the production environment. Its engineers have even designed vehicle production plants, and the company helped design the FutureSteelVehicle described by Ron Krupitzer of the Steel Market Development Institute in a recent Design News blog.
Click on the EDAG Genesis below to start the slideshow: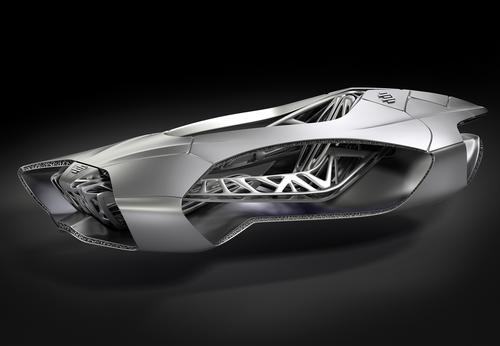 The Genesis car body demonstrates what AM can do for the design and production of cars, including lighter weight, topological optimization, and load-conforming design strategies, according to a press release. It came about after a decision to assess how AM processes could be applied for making industrial components, modules, and complete vehicle bodies, with the aim of producing a timeframe and roadmap.
The company's engineers and specialists from its Competence Centre for Lightweight Construction wanted to find out which processes have the potential to produce structural parts with the desired properties in only one production step, without the need for tooling or fixtures to speed model changes and customer modification. EDAG is convinced that the future of AM lies in end-production manufacturing.
A turtle shell inspired the design of a car body, more for its ability to protect and cushion its passengers than for its aerodynamics or speed. The single-piece car body, like the animal's shell, provides strength and stability with a sandwich composition containing optimized internal structures. You can watch short videos with closeups of the Genesis here and here.
Aside from the light weight and design freedom that everyone cites, EDAG also says AM can enable the design of parts that are load-specific and multifunctional, with ideal wall thicknesses and optimum material properties. Those materials will include weldable metals and plastics that will be developed for specific applications. EDAG believes that the production speed and build volume of AM techniques are rising fast enough to deliver an increase in productivity of 100 to 1,000 times over the next 10 to 20 years.
The team conducted a workshop with technology specialists and authorities in the industry, described in a downloadable whitepaper (registration required). During the assessment, the team created an evaluation matrix to quantify variables in the production of structural parts, including the range of materials that can be used with a given technology, the degree of complexity, lot size, part size, tolerances, manufacturing costs, and ecological performance.
The two technologies that stood out were SLS/SLM, which the team recognizes as well established in industrial usage with both metals and plastics; and certain versions of FDM, which they noted has no restrictions on build size due to its ability to be done in an open space. Since the FDM process can more easily accept carbon fibers for reinforcement, it can produce structural components made of plastics with sufficient strength and stiffness.
Setting a goal to 3D-print an entire production model car is interesting. Recently, we told you about Oak Ridge National Laboratories' deal with Local Motors, to attempt just that. The Department of Energy's lab, plus the crowdsourcing car company that pools the engineering, industrial design, and transportation design talents for open-source design and manufacture of highly specialized vehicles, will try to solve the technological problems involved.
The EDAG team concluded that producing entire car bodies in industrial volumes still lies in the future. However, making small structural components with AM is already feasible, and multi-component modules are not far away. Several barriers remain to the full integration of AM into established manufacturing processes, from performance specifications to production-oriented design, and the entire development cycle is still very time-consuming. For example, technical knowledge about development and manufacturing with AM is not always pooled.
Related posts: