I guess it was inevitable: 3D printing has met up with drones in a 3D-printed UAV (unmanned aerial vehicle). University of Sheffield engineers printed the prototype drone in 24 hours from ABS plastic using Fused Deposition Modeling.
Engineers at the University of Sheffield Advanced Manufacturing Research Centre (AMRC) designed, built, and successfully tested the UAV as a radio-controlled, slope soaring glider. The small wingspan, fixed-wing craft was created on a Stratasys Fortus 900mc FDM printer, according to an article on the AMRC website. The parts snap together and the total drone weighs less than 2 kg (2.2 lb), with a wingspan of 1.5m (4.9 ft).
The AMRC's Design & Prorotyping Group engineers chose FDM over SLA (steolithography) and SLS (selective laser sintering) because of its lower initial investment, lower material cost, and simpler process when printing relatively large components like the drone's airframe. The idea is to enable 3D printing of unmanned, disposable aircraft that could be sent on one-way missions for reconnaissance, search and rescue, or delivery.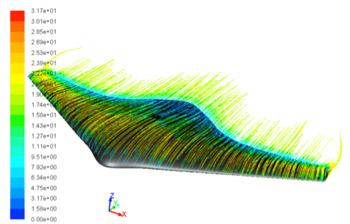 Earlier versions of the prototype drone required large amounts of support material around its components to prevent their structures from deforming during the build process. But this extra material can increase build time by a lot -- up to an order of magnitude -- because of the need to change print heads after each shift between build and support structures, for every print layer. It also adds considerably to material costs, and reducing costs was a major aim of the project.
The team got around the deformation and support structure problem by optimizing the design for 3D printing. Before, the design would have required 120 hours, not 24, to manufacture. Narrowing options with CAD modeling led to the drone's blended-wing-body design, which improved aerodynamics while also eliminating support material by allowing all of the craft's geometry to remain below critical angles.
Computational fluid dynamics were used to optimize the chosen design for both aerodynamics and manufacturing using FDM, and to assess characteristics like lift, drag, and pitch over a range of angles of incidence. The resulting UAV consists of only nine relatively large, thin-walled parts, which also speeds manufacturing time. These components are two each of wings, elevons, spars, and wing end fences, plus a central spine. The flight test showed that the craft has good stability and an efficient wing design, indicated by low aerodynamic noise at speed.
The engineers are now considering whether nylon as a 3D printing material is feasible, according to a press release. That would increase the UAV's strength by 60% without also increasing its weight. The team plans to add guidance to the UAV via cameras or GPS, which would be controlled by an operator equipped with first person-view goggles, said project leader Garth Nicholson, senior design engineer at the AMRC, in the article. GPS could also be used for autonomous flight. An electric twin ducted fan propulsion system is being built for inclusion in the central spine of the drone. Other ducted fan designs are also being considered, as are control by surface morphing technology and onboard data logging of flight parameters.
Related posts: