Last fall, we updated you on the self-assembly technology developed by researchers at Harvard's Wyss Institute using engineered DNA. The researchers used engineered DNA to develop a programmable glue that tells which water-filled gel bricks should stick together. Now the team has gone back to making structures from self-assembling, three-dimensional engineered DNA building blocks. These engineered DNA bricks and structures are some of the biggest and most complex ever.
Led by Peng Yin, a core faculty member at the Wyss Institute and an assistant professor of systems biology at Harvard Medical School, the team has also taken some of the first sharp 3D pictures of nanostructures made from intact synthetic DNA in solution. You can see those in this video, which also shows models of the polyhedral structures.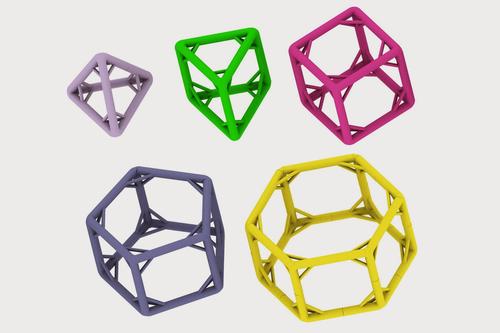 This time, Yin's team is using a method known as DNA origami to make the building blocks; his earlier work used three-dimensional bricks. DNA origami, invented in part by Wyss Institute researcher William Shih, and is now one of the most common methods for building tiny, programmable structures from engineered DNA. This method, as we've discussed before, uses a long biological strand of DNA as a backbone, to which smaller strands are bound to create various shapes.
Yin's team built five polyhedra: a triangular prism, a tetrahedron, a cube, a pentagonal prism, and a hexagonal prism. The largest of the self-assembling, cage-like structures, a hexagonal prism, measures one-tenth the width of a single bacterium. Using DNA origami, each structure was built out of building blocks shaped like tripods, with horizontal struts to stabilize each pair of legs. The researchers programmed the DNA strands to fold into tripods that are 60 times larger than previous DNA building blocks of this shape. These tripods are also 400 times larger than engineered DNA bricks made with other methods.
Using DNA-PAINT, a DNA-based super-resolution fluorescent microscopy method, along with electron transmission microscopy, the researchers visualized their polyhedral structures and produced super-sharp pictures of the cages, which are too small to be seen with a conventional light microscope. The team said in a press release that these 3D pictures are the first ever showing single DNA structures in their natural watery environment. The team published their work in Science magazine (subscription required).
The technology could eventually be used to develop self-assembly methods for making nanoscale devices with precisely defined structures and functions, such as drug-delivery devices. Chemical hooks could also be built into the DNA cages used to attach a variety of nanoparticles or proteins, making them function as tiny factories or power plants for specialty chemicals, or sensors that help diagnose diseases.
Other members of the team included former Wyss Institute visiting fellow Ryosuke Iinuma, Wyss postdoctoral fellow Ralf Jungman, and former Wyss postdoctoral fellow Yonggang Ke, now assistant professor of biomedical engineering at the Georgia Institute of Technology and Emory University. Also on the team were Thomas Schlichthaerle, a visiting student at the Wyss Institute, and Johannes B. Woehrstein, a research fellow at the Wyss Institute. Research was funded by the National Institutes of Health, the Office of Naval Research, the National Science Foundation, the JSR Corporation, and the Wyss Institute.
Related posts: