Last year, we told you about a huge jump in global demand for industrial robots, reported by the International Federation of Robotics (IFR). This year the news from the IFR isn't as good. While there was nothing resembling the crash of 2009, the IRF's 2013 report found that overall sales of industrial robots in 2012 fell by about 4% from 2011. In this blog, we'll look at some of the results of the IRF's "World Robotics: Industrial Robots 2013" report. In a later blog, we'll examine its report on service robots, "World Robotics: Service Robots 2013."
The Germany-based federation was quick to point out that the overall decrease is slight, and caused mostly by a 13% decline in sales to the electrical/electronics manufacturing sector. This is the second largest sector after automotive manufacturing, and last year the IRF predicted that both would continue driving growth in industrial robot sales during 2012. Automotive manufacturing did increase, by 6%, and most other sectors grew by small amounts. Food and beverage increased by 4%, rubber and plastics grew slightly, but sales to the metals and machinery industry dropped by 3%. On the other hand, the overall decrease is not exactly the 5% overall increase the IRF had predicted last year.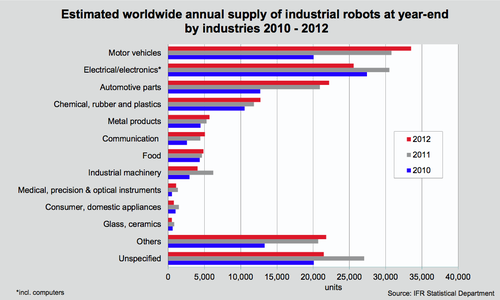 Although the largest regional users of industrial robots are Japan and China, shipments to Asia in 2012 declined by 5% overall and to Korea by 24%, while Japan was up slightly. Shipments to China in 2012 grew only slightly over 2011, but it's still the fastest growing region. This nation's installations of industrial robots has grown at an annual compounded rate of 25% between 2005 and 2012, and shipments of industrial robots to China grew every year except during 2009.
The Americas and the UK had the largest increases in 2012, while much of Europe declined somewhat. For example, shipments to the Americas grew by 7%, and to the US by 9%, although shipments to Canada decreased by 5%. The report notes that since 2010, North American factories have been modernized and production capacity has increased, which can be seen as a confirmation of the widespread view that manufacturing has come back onshore in the US. In Europe, sales of industrial robots to the UK almost doubled, but Germany, Europe's largest user, fell by 10%, and Europe overall was down by 6%.
Interestingly, the report stated that "robot suppliers have been reporting a considerable increase in the number of customers in the past years. However, the number of units ordered by these customers is often very small." This might be another factor in the lower sales figures. It might also reflect a shift we've seen at robot makers as varied as huge ABB and tiny Rethink Robotics. Both are making robots that are smaller, simpler to program, less expensive, and easier to use, and they are targeting smaller companies that will buy these bots in lower quantities. For example, we told you a while ago about a smaller welding robot from ABB, and we've written several times about Rethink's Baxter. The report seems to concur, since it states, "Technical improvements of industrial robots will increase the use of robots in the general industry and in small- and medium-sized companies, e.g. easier to use robots, uncomplicated, low-priced robots for simple applications, collaboration of robots with human workers." At the same time, improved quality will require more sophisticated, "high-tech" robot systems.
Between 2014 and 2016, the IRF predicts that global industrial robot sales will rise to an average of 6% per year. Before then, in 2013, sales will increase by about 2% over 2012, with demand varying among different industries and regions. The automotive industry's demand for industrial robots will start slowing, while the electrical/electronics industry's will increase, due to retooling for new production processes and increasing automation in production. Other industries will also increase, such as food and beverage, metal and machinery, and pharmaceutical. By region, growth will occur in North America, Brazil, Korea, China, South East Asia, and most of Central and Eastern Europe. Demand in Japan, continental Europe, and the UK will fall somewhat.
Related posts: