End-production using 3D printing, including objects made of multiple materials in one pass, is getting closer to reality as we saw on the exhibit floor at the recent Pacific Design & Manufacturing Show.
At the Stratasys booth, I talked to Susan York, North American business manager for the materials group; and Steve Rebensdorf, channel sales manager. Rebensdorf showed off several of the objects on display that were created with the new multi-color, three-material Objet500 Connex3.
Click on the image below to start the slideshow.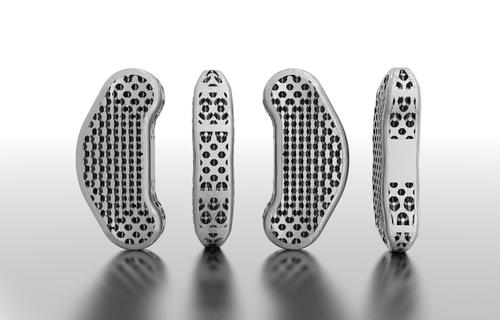 While it's true that this machine is targeted at models and prototypes, like other Objet Connex printers, the things it's creating are often fully functional objects that are only one or two steps away in form and function from volume production end-products. So I asked York what it would take to get to that next step. She answered by talking about both materials technology and printer technology. "There are 17,000 different kinds of plastic," she said. "The Connex3 can make up to 500 of those."
Of the three basic categories of plastic -- thermoset, elastomeric, and thermoplastic -- those 17,000 kinds fall into, Connex technology handles two: thermoset and elastomeric materials. Most plastic end-products are made of the third type, thermoplastic, used in Stratasys's fused deposition modeling (FDM) machines, such as the Fortus 3D Production Systems, aimed at making end products.
Examples of prototypes that are very close to end products, York noted, are components of bikes made by the Trek Bicycle Corp. using the Connex2 and now the Connex3. These multi-materials prototype components are used for functional testing, and include components made with combinations of Digital ABS and softer materials. Examples include a chainguard that snaps onto the bike's frame, as well as handlebar grips. You can access a case study here and a video here.
Then there's the printing technology and how it uses those materials. One possibility is to figure out how to apply Connex technology, which cures via UV light, to injection molding, said York. That would mean faster production and less waste. But the segue from prototyping with multi-materials Connex processes to making end-products with them comes down to chemistry. "To bring thermoplastics to a liquid state, you have to understand their chemistry and benefits, and how to do multi-materials inkjet printing with them," she said.
Over at the EOS booth, I got to hold some of the tiny titanium spinal implant prototypes we've written about, as well as see the substantially larger aluminum oil separator end product for motor racing we've told you about.
Right now, the strongest vertical applications EOS of North America is seeing in 3D printing are medical and aerospace, said Jessica Nehro, field marketing manager. I was interested to find out that Morris Technologies -- the service bureau that worked primarily with aerospace engine components, which GE Aviation bought in 2012 -- is the world's largest user of EOS's metal additive manufacturing, with more than 20 systems.
More OEMs are buying high-end 3D printers and bringing the technology in-house for use in prototypes, Andrew Snow, EOS of North America's director, told us. This is because of confidentiality reasons. Because these are big OEMs with their own R&D labs and internal customers, the result is the establishment of manufacturing centers of excellence, using 3D printing all the way from concept to completion. "They can now qualify their own materials, create their own databases, and validate and qualify suppliers," he said. GE Aviation is an outstanding example. Manufacturers will continue to use additive manufacturing (AM) for rapid prototyping, but there's definitely a shift toward manufacturing production parts, and this is growing in aerospace, as well as medical and dental applications.
Related posts: