When we told you about BMW unveiling its i3 all-electric car last summer, we knew it would contain carbon fiber composites in the structure, not just the panels. What might not have been obvious, though, was how much and exactly where. And we didn't yet know how.
The new BMW i3's entire body-in-white is made of carbon fiber composites, a first in automotive mass production. It turns out that its construction has been made possible by Dow Automotive Systems' Betaforce structural adhesives, Eugenio Toccalino, Dow's director of strategic marketing, told Design News in an email.
BMW's intelligently designed LifeDrive architecture for its BMW i cars consists of two elements: the aluminum bodyshell, called the Drive module; and the carbon composite Life module. All the heavy stuff, like the motor and battery, is in the lower Drive module. The lightweight carbon fiber Life module is the car's passenger cell that sits on top, compensating for all that weight. You can see illustrations of this architecture for the i3 here, and a video of the same architecture, shown for the i8 hybrid, here.
Click on the BMW i3 below to start the slideshow.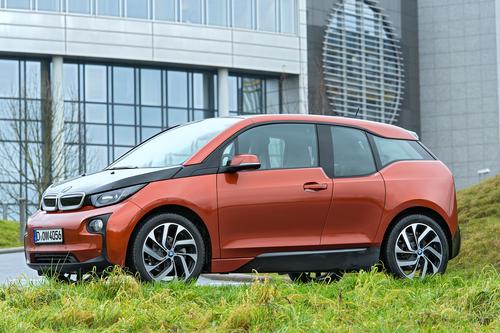 As we told you last fall, Betaforce and Betamate structural adhesives were designed to join carbon composites not only to each other, but also to metals. At that time, Dow Automotive's senior market development manager, Frank Billotto, shared slides from a presentation he'd been giving. These showed that the adhesives were designed with characteristics that make the composite body-in-white possible. They include a continuous bond line, cohesive joining of different surfaces, managing dissimilar expansion rates in different materials, and coping with the galvanic corrosion that can occur if aluminum fasteners used in metal structures contact composites. The adhesives also help increase body stiffness and durability, and cure at room temperature with cycle times of around one minute.
You can see how fast those cycle times really are in this video of the i3's Life module being assembled by robots. It's all done in the first eight minutes. In some of the closeups, you can see heat being applied after gluing and clamping, and it looked to me as if it cured in under a minute.
Toccalino gave us some additional details as to how this was all accomplished, especially the fast cure rates. First, Betaforce adhesives are designed to reach the specific heat-triggered, accelerated cure profile of the process selected by an automotive OEM. "In general, [these] structural adhesives also have been designed to achieve a rapid strength build-up in heat-accelerated curing processes, generally determining adhesive temperatures of approximately 90C to 110C, resulting in handling strength within minutes," he told us. Heat can be applied by ovens, microwave heating the adhesive, infrared irradiation, or induction heating the substrate to transfer heat to the adhesives, among other techniques.
Adhesive cure rates can be accelerated further without compromising their failure modes by using Dow Automotive's Betawipe activators, which are tailor-made to improve surface adhesion, Toccalino told us. Interestingly, the end-cure properties, such as shear strength, of a particular adhesive formulation are independent of its cure rate.
Those properties also include the combination of high elongation at break with high modulus. This makes the adhesives especially suited for bonding carbon fiber composites, because high modulus gives the assembly full stiffness, and high elongation provides improved dynamic loading and energy uptake, says Toccalino. The adhesives' modulus stability over a wide temperature range also contributes to long-term stability and durability of the bonded assembly. The adhesives themselves are optimized to meet OEM specifications of a 15-year vehicle life. Once fully cured, they also meet all OEM environmental durability specifications.
The adhesives can be applied to multiple materials because they bridge differentials in the thermal elongation coefficients of dissimilar material assemblies across operational temperature ranges, particularly critical between carbon composites and aluminum. Aside from the adhesives' mechanical properties and cure kinetic profile, the use of Betaprime primers and Betawipe surface activators develop perfect and robust adhesion on complex substrates like carbon composites, says Toccalino. "For example, we offer one grade of Betaforce that has been specifically developed to reduce or even eliminate surface preparation in multimaterial assembly."
As we've discussed, and as readers have often commented, repairing components made of carbon fiber composites can be expensive, if it's even possible at all. Dow Automotive has tried to make that easier by providing a longer open-time version to extend handling and working times for repairs.
Related posts: