Recycled plastics are being repurposed in everything from car seat fabrics to heavy truck parts to heavy load bridges. Even bioplastics have entered the recycling waste stream. Some plastics, like water bottle materials, are a lot easier to recycle than others, like carbon-fiber composites, but progress is being made. Often, it's spurred by the demands of big manufacturers like Ford or Boeing.
The most commonly recycled plastic objects in the US are bottles. These are typically made of clear polyethylene terephthalate (PET) or white high-density polyethylene, which can be easily identified by consumers and materials recovery facilities. On the other end of the scale are carbon-fiber-reinforced plastics, which are difficult to recycle.
Click on the image below to start our slideshow on signs of progress in recycling plastics.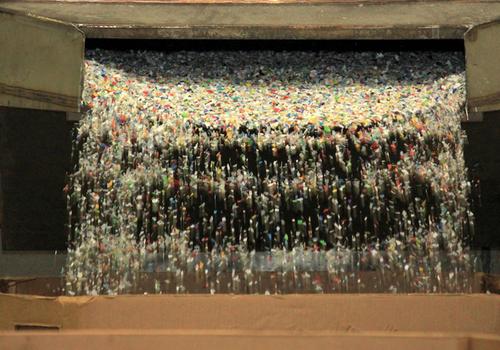 Some recyclers have expanded into supplier territory for a variety of materials. Poly Recovery, which specializes in recycling, testing, and processing plastics, provides materials for customers within a 100-mile radius. Those materials include plastic resin, regrind, parts, partially processed plastics, scrap, film, and paper-related products. PET plastic waste travels well under that radius. The company says on its website that recycled and processed PET packaging materials travel 11.7 miles to end-user manufacturers for conversion into consumer products.
Axion International is one manufacturer of components made from recycled bottles that is going into the materials recycling business as a processor and supplier. Its recycled and recyclable proprietary composite thermoplastic material (and the structural, weight-bearing elements made from it) were used in a 90-foot heavy-load Scottish bridge we discussed back in 2012. Now the company has opened Axion Recycled Plastics, a recycler of post-consumer and post-industrial high-density polyethylene, polypropylene, polyvinyl chloride, thermoplastic polyolefin, and polystyrene. It will provide materials commercially and serve as an internal source of raw materials for Axion International's building products.
There are two ends to recycling plastics and composites: recycling what's already been produced and making materials that are easier to recycle in the first place. Neither task is easy for carbon-fiber composites. Reader comments to some of our articles about carbon composites in cars discuss the difficulty and expense of repairing damaged carbon composite parts, such as a smashed hood. These components often must be trucked to special centers for disposal at a high cost to the car owner -- and that's without counting replacement costs.
This must be a common problem, since it's featured in Video 1 on this page of Adesso Advanced Materials' website. The Chinese company offers an alternative method of recycling carbon fiber, plus additives to produce materials that are easier to recycle. Carbon composite recycling typically uses high-temperature pyrolysis for the resin, and fibers are melted or chopped. This can reduce quality. Adesso's Cleavamine degradable curing agents and Recycloset degradable epoxies make it possible to recycle components made of carbon composites. Using chemical methods at temperatures below 150°C, more of the resin can be retained, and the recovered fiber is of higher quality.
Adesso also recycles its own materials. In the video, components made with Cleavamine and Recycloset are collected and taken to an Adesso recycling center. The decomposed epoxies are reused as thermoplastics, and carbon fiber recovered with the process can be reused in applications such as laptop casings, sporting goods, and machine tools.
A different approach to carbon fiber recycling that promises higher quality is the agreement in principle between Adherent Technologies and the investment firm AMT II to provide commercial carbon fiber recycling and reactive fiber sizing. The agreement calls for the first plant to open this year "in the Oklahoma or Kansas area." The facility will use Adherent's carbon-fiber recycling process, a wet-chemical breakdown of the composite's polymer matrix. It results in a fiber that is 99% clean and retains 95% of the strength of virgin fiber. This is expected to be especially attractive to defense and aerospace companies with classified end-of-life components. The plant's initial scrap processing capacity target will be five tons per day.
One of the main recyclers of carbon fiber, MIT-RCF, also re-engineers them using its proprietary 3-DEP process. Its facility has an annual processing capacity of 3 million to 5 million pounds of carbon fiber scrap, which is repurposed as commercial fibers or manufactured as preforms and molded preformed fabricated parts. Applications include aerospace/defense, automotive, transportation, and sporting goods. The company has collaborated with Boeing, BMW, and General Motors.
Researchers at Siemens Corporate Technologies discovered a new process for recycling carbon fibers. Heinrich Zeininger leads a team that has developed a "solvolytic" recycling method using an environmentally safe, low-temperature solvent to remove plastic from carbon fibers. This produces intact, full-length fibers and woven materials that maintain their original shape. The research was conducted as part of the Bavarian Cluster Initiative MAI Carbon, which aims at forming a complete recycling process chain for waste composites and reprocessed fibers. Siemens expects to use more carbon fiber-reinforced materials in applications like motors and rotor blades.
Related posts: