America Makes, the federally funded institute formerly known as the National Additive Manufacturing Innovation Institute, has awarded funds to the second wave of 3D printing and additive manufacturing (AM) projects. The 15 winning applied R&D projects involve multiple processes, metal and polymer materials, and several companies we've been discussing on this site.
America Makes, which took its new name in October, will give $9 million matched by $10.3 million from the project teams. The funding amounts and the number of projects are double those of the first round last March. The second project call last August focused on five technology areas: design for AM, AM materials, process and equipment, qualification and certification, and development of knowledge bases. Many projects involve metal processes and aerospace applications. Two address hybrid AM/subtractive processes, and one is aimed at multimaterial 3D printing.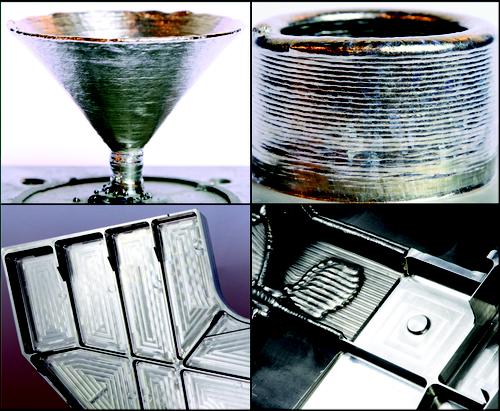 A study led by the University of Texas-El Paso will look at integrating multiple integrated manufacturing systems into an AM process to enable product fabrication from multiple materials. Not surprisingly, since it's been leading the multimaterial AM market, Stratasys is a team member. Others are Lockheed Martin, Northrop Grumman, rp+m, the University of New Mexico, and Youngstown State University. Metal and thermoplastics will combine in an extrusion process that includes micromachining, laser ablation, embedding wires and fine-pitch meshes submerged within thermoplastics, and robots placing components. Products may include defense, space, and energy systems; biomedical devices; and wearable electronics.
Since some manufacturers combine AM with subtractive methods to take advantage of what each process does best, one project led by Optomec will develop a "Low-Cost LENS Engine" that can be installed on most machine tools to form a hybrid system. Ken Vartanian, Optomec's director of marketing, told us such systems can drastically reduce the amount of time it takes to machine parts. The company's LENS process is based on metal laser deposition and is used to produce and repair metal parts. The modular engine will be easy to upgrade and maintain as part of a machine tool system. The project will incorporate controls, toolpath generation, and quality monitoring. Partners include Lockheed Martin Missiles & Fire Control, MachMotion, TechSolve, and the US Army Benet Laboratories.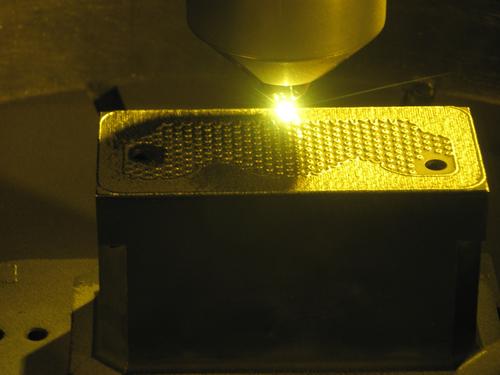 A second Optomec-led project, "Development of Knowledgebase of Deposition Parameters for Ti-6Al-4V and IN718," will work on defect-free metallic 3D printing with the LENS process. The database will eliminate trial-and-error process development by allowing a process engineer to choose recipes from a matrix of known good process parameters. Applied Optimization is the other partner.
A different take on hybrid processes is a project led by North Carolina State University, "Automatic Finishing of Metal AM Parts to Achieve Required Tolerances & Surface Finishes." The team -- including Advanced Machining, CalRAM, FineLine Prototyping, Iowa State University, John Deere, Kennametal, and Productivity -- will target a system that can produce geometrically accurate finished parts.
Also focused on accuracy is the GE Global Research-led project, "Development of Distortion Prediction and Compensation Methods for Metal Powder-Bed AM." The goal is to reduce development time by benchmarking and validating physics-based thermal distortion prediction and compensation tools. Partners include 3DSim, CDI, Honeywell Aerospace, Pan Computing, Penn State University, United Technologies Research Center, and the University of Louisville. Another database project, developed by a team led by Carnegie Mellon University, will connect specific powder properties from multiple suppliers to specific process outcomes.
GE Aviation, already heavily involved in AM, will lead a project to devise platform-independent quality assurance for high-volume production of aerospace components. It will involve multiple super-alloys and multiple 3D printers. An EWI-led project will develop an ultrasonic inspection method for high-performance aerospace titanium alloy components made using electron-beam deposition. The other partners, Lockheed Martin and Sciaky, are teaming on aerospace components such as an aircraft wing box made from titanium, as we've discussed before.
Another software project, led by the University of Pittsburgh, will develop design and optimization software for AM structures that are based on cellular structures. This reminded me of my question to Altair at its technology conference last October about the feasibility of adapting this class of software for 3D printing.
A project led by Michigan Technological University aims at developing a low-cost metal 3D printer and aluminum alloys to use with it. That's logical, since an MTU team recently announced a low-cost open-source 3D printer that makes metal parts for less than $2,000. This project aims to develop a 3D-printable alloy made from recycled beverage containers.
Related posts: