EOS is taking steps to establish additive manufacturing (AM) as an efficient process in industrial production and its company as a leader in that effort. The Germany-based company is definitely not abandoning rapid prototyping as a focus. But the shift comes at a time when interest is growing in several vertical industries to integrate AM technologies and processes into existing manufacturing flows.
"We're not forgetting where the roots of our technology come from," EOS of North America's director Andrew Snow told Design News. "More than 50 percent of our sales still come from rapid prototyping. Now the uses of our technology are being directed more and more toward manufacturing applications, so we're adding this as a focus."
This isn't just talk. The company has shuffled its corporate management structure around, it's been adding specialized application consulting and quality management services, and just debuted two new machines that will aid the effort. EOS also expects to double its footprint in North America in about nine months with a new facility. The job isn't done yet, and achieving these changes is more complex than appears at first glance.
Click on the image below to start the slideshow.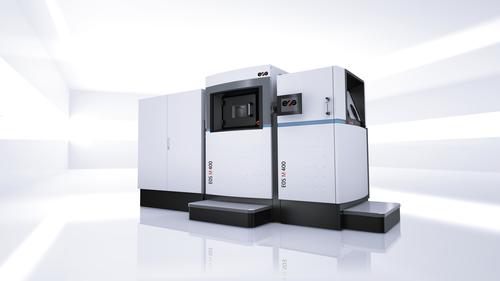 Large industrial companies in medical, aerospace, automotive, tooling, and other major vertical application areas are making a transition to using 3D printing, primarily as a cost-savings tool, Snow told us. In many cases several components can be combined into one, eliminating manufacturing steps. What those companies need are processes and procedures that help integrate AM techniques into traditional, existing subtractive production environments. At the same time, AM machines and processes need to be developed with features aimed more at making end-production parts faster and more consistently, not rapid prototyping models.
In end-product manufacturing, as in rapid prototyping, users want parts with strength and dimensional accuracy. But benefits like fast turnaround aren't as important. OEM manufacturers' components coming off the line must also be uniform in size, shape, materials, and mechanical characteristics. Even their microstructures must have part-to-part consistency. All aspects of the process must be reproducible, and per-piece costs must be relatively low.
EOS is addressing the demand for systems that are more productive and can produce parts for a lower per-piece cost, said Snow. As far as reducing actual system costs, that's not like to happen for at least another year, but other options may be coming. In the recent agreement with Within Medical, which we told you about, a service lets engineers design and 3D print custom metal orthopedic implants on high-end EOS machines using free downloadable software without the need to own a printer. Snow said other front-end software cooperation efforts are in the works that will enable engineers in some vertical industries with service-provider networks.
Meanwhile, the EOSINT P396 system for plastic, introduced at Euromold 2013, is 15 percent more productive than its predecessor, the P395. Laser power has been increased from 50W to 75W to speed primary processing time, and recoating has been reduced from 15 seconds to 7 seconds to speed secondary processing.