A spacecraft on its way to Mars is carrying core structures made with carbon-fiber composites. Launched November 18, NASA's Mars Atmosphere and Volatile EvolutioN (MAVEN) spacecraft is the first one designed for exploring and understanding the upper atmosphere of the red planet.
A part of NASA's Mars Scout program, MAVEN is the culmination of 10 years of R&D. Its specific mission is to explore the upper atmosphere and ionosphere of Mars and their interactions with the sun and the solar wind. The goal is to determine today's rates of loss of both water and carbon dioxide, which Mars once seems to have had, into space, and what the impact of their loss has been on the planet's climate and habitability.
Click on the image below to see how MAVEN was prepared prior to its launch.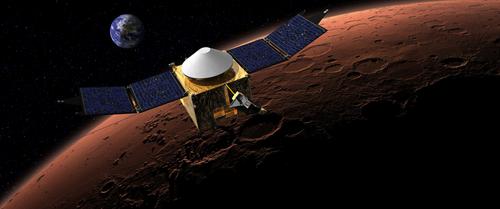 MAVEN is scheduled to arrive in September next year at its destination of an elliptical orbit around Mars, and will orbit the planet for about one Earth year. The spacecraft's length, wingtip to wingtip, is 37 ft, and it weighs 2,550 kg, about the size of a small car. It will carry eight instruments: magnetometer, neutral gas and ion mass spectrometer, Langmuir probe and waves, imaging ultraviolet spectrometer, solar wind electron analyzer, solar wind ion analyzer, solar energetic particles analyzer, and suprathermal and thermal ion composition analyzer.
In this video, you can watch MAVEN separating from the Centaur upper stage on November 18 on its way to Mars.
TenCate Advanced Composites supplied a carbon-fiber-reinforced composite to Lockheed Martin for use in MAVEN. TenCate is not new to making carbon-fiber composites for spacecraft: it has provided them before for previous Mars missions, such as the Rover and Curiosity rover vehicles for exploring the red planet's surface. For MAVEN, TenCate engineered composites that were used in the orbiter's primary bus structure. High-modulus composite face sheets were sandwiched between sheets made of aluminum honeycomb, according to a press release. The entire cube-shaped primary structure weighs 275 pounds, but it can withstand launch forces of 6 Gs. TenCate is also known for its R&D work on automotive composites.
According to a NASA press kit, the spacecraft's central structure is based on the design of the Mars Reconnaissance Orbiter's central structure. MAVEN's fore and aft decks consist of two square panels, each 7.5 ft per side and 1.5 inch thick. Structural support is provided by five gusset panels. These encircle a central core cylinder 60 inches tall that contains the fuel tank. On the aft deck, engine structural support is provided by a cylindrical aluminum boat tail.
A recent status update from the Laboratory for Atmosphere and Space Physics, University of Colorado Boulder's MAVEN project page says that as of December 5, all instruments are performing as expected.
Related posts: