It's taken a long time to tweak ceramic matrix composites (CMCs) so they can be produced in high volumes, but the time has finally come. Aircraft engine leader GE Aviation has broken ground on the first high-volume factory for producing commercial jet engine components from this type of composite.
GE Aviation has been working on advances in this technology for more than 30 years. Most recently, through CFM International, its joint venture with Snecma, GE has been refining CMC technology for the first commercial use ever in its Leading Edge Aviation Propulsion (LEAP) Turbofan engine. In May, CFM froze design for the LEAP-1B, which will power the Boeing 737 MAX. The 1B is on schedule for flight testing in 2015 and flight certification in 2016.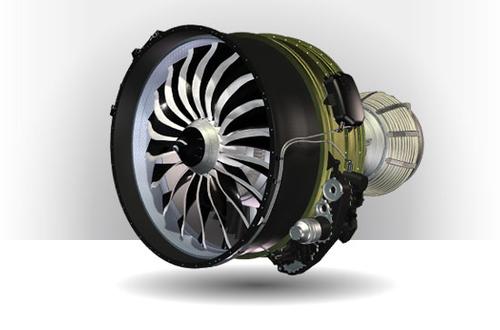 Ceramic matrix composites are much lighter in weight than typical nickel-based alloys. They can also operate in temperatures that are several hundred degrees higher than the temperatures nickel alloys can withstand, and that are typical in high-efficient, high-temperature turbine engines. CMCs will be used in the LEAP engine's high-pressure turbine nozzles, which is expected to increase durability while cutting weight, fuel consumption, and maintenance needs. The materials, which are made of ceramic resin embedded with silicon carbide ceramic fibers, have already been used successfully in military turbine engines. LEAP is expected to be the first commercial aircraft engine using these materials in turbine components.
A groundbreaking ceremony for the new 170,000-sq-ft plant, located in Asheville, NC, was held on November 14, according to a press release. Hiring at the facility will begin next year. A high-pressure turbine shroud will be the first component to be built at this plant. Each LEAP engine will contain 18 of them. GE expects that, in the future, other commercial engine components will be made with CMCs.
The LEAP engine will also incorporate carbon-fiber composites in its fan case and fan blades, as well as lightweight, durable, titanium-aluminide alloys in its low-pressure turbine blade. Those Ti-Al alloys have been under development as long as CMCs. To produce some of its metallic components, GE will use 3D printing as we told you before. Metal parts made with additive manufacturing (AM) must meet more demanding specifications than parts made of plastic via AM.
GE Aviation is one of the pioneers in making metal AM processes work successfully in volume production of aircraft components, which is not an easy task. That requires meeting two goals that often conflict: speed of production and extremely high accuracy and repeatability. GE already uses direct metal laser melting (DMLM) AM techniques for some of its engine components, and expects to use these techniques for some of the LEAP engine's metal parts, such as the fuel nozzle.
CFM already completed design freeze on the LEAP-1A/LEAP-1C last year. The 1A, which will be used in the Airbus A320neo, is the first LEAP engine to be manufactured.
Related posts: