Carbon composites aren't quite ready for complete integration into high-volume automotive manufacturing. But automotive OEMs and materials manufacturers have been working for some time to fast-track material and process development. This summer and fall presenters from Dow Automotive Systems have been touring and talking about the company's latest developments.
In September, Edward Yue, Asia Pacific composites marketing manager, gave a talk at the SAE (Society of Automotive Engineers) 2013 Vehicle Lightweighting Forum in Shanghai on the company's efforts to develop a carbon-fiber composite system that can be mass produced for the automotive industry.
Also in September, Allan James, North American field marketing manager for composites, spoke at the 2013 SPE (Society of Plastics Engineers) Automotive Composites Conference & Exhibition in Novi, Mich., on a similar subject. His talk focused on the differences between thermoset and thermoplastic carbon-fiber composites. At the same conference, the company's senior market development manager, Frank Billotto, delivered a presentation on adhesive technology for multi-material substrate bonding in automotive applications.
Click on the image below to start the slideshow.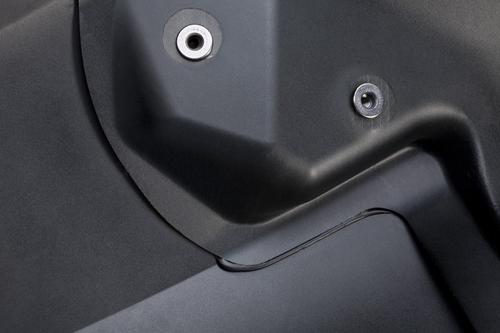 James and Billotto delivered similar talks at an earlier conference in August, the Global Automotive Lightweighting Materials Conference 2013 in Detroit, and shared the slides from those presentations with Design News. These two subjects -- viable carbon fiber parts for automotive applications and adhesive technology for multi-material substrate bonding -- address two major manufacturing and assembly challenges that we've covered often. These are tuning composite manufacturing specifically for automotive applications, and joining composite components to components made of other materials, such as steel and aluminum.
James's presentation pointed out that carbon composites serve different industries and applications in different ways. In wind turbines, for example, carbon composites help make longer blade designs possible, while in oil and gas they provide better strength-to-density ratios for the structural components of offshore platforms. In vehicles, the main reason for using carbon composites is reducing mass. Overall, they provide much higher strength-to-mass and stiffness-to-mass ratios than glass-reinforced composites and metals.
One thing that's being done to reduce the higher cost of carbon composites, James said, is the optimization of parts designs to minimize the amount of fiber required. Another is developing carbon fiber and resin chemistry optimized for automotive applications, so they can withstand stiffness and strength over thermal, moisture, and aging cycles. Optimization, by the way, isn't being used here in a generic sense, but in the more specific sense of the sophisticated simulation and optimization software showcased at the recent Altair conference.