One thing I asked the Vaders was why no one had previously thought of making a small-sized, less-expensive LMJP machine. "Molten metals are really difficult to work with," Scott told us. "Temperatures can get up to 800°C inside the print head." Molten aluminum is very corrosive, so newer, high-end ceramic materials are needed. Also, Priest and others working in the lab then were using continuous streams, not drop on demand, Zachary said.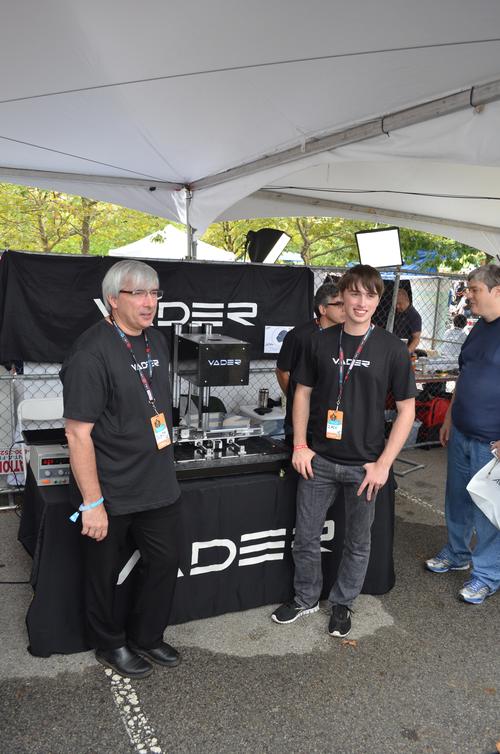 Unlike some engineers reinventing 3D printing, the Vaders won't be using Kickstarter because of its $10,000 price limit. Eventually, the later low-end machine might be priced around that figure. The first machine, the commercial-scale Mark 1, will be very similar to the prototype. That machine's build volume is expected to be 250 mm x 250 mm x 250 mm and its resolution 50 microns. "We've demonstrated all of its technologies separately and tested all the subsystems: the motion platform, the head to create droplets, and the electronics," said Scott. "Now we're starting systems testing, and are about one or two months away from making parts, so we don't know yet what the throughput will be."
For funding, they're looking for qualified development beta customers to help get the first few Mark 1 machines built. "We've got four customers now and will probably build 10 Mark 1 machines in 2014," said Scott.
The next step will be building the Mark 2, also a commercial machine, using what the team learned on the Mark 1. The Vaders will price that at somewhere between $20,000 and $100,000. Then comes the lower-cost Mark 3, for professional makers such as small businesses and engineering firms. "We're working on a patent, but a narrow one to give protection to some core ideas that are fundamental and unique," said Scott. "For the most part, the machine will be open source."
Related posts: