Self-assembly methods are in the news again. Last week, we gave you an update on Harvard's DNA self-assembly technology that researchers are using to direct tiny water-filled gel cubes to assemble in specific patterns. Now MIT researchers have developed a competing self-assembly technology: flywheel-driven M-Blocks.
M-Blocks are larger-scale building blocks a few inches on each side that enclose a flywheel moving at speeds of up to 20,000 revolutions per minute. Each face and edge of an M-Block cube has magnets that allow one cube to attach to another. In this video, the cubes look like they're flying through the air before forming attachments. The cubes can roll around and over each other, jump, roll across a table, and move along the underside of a metal surface.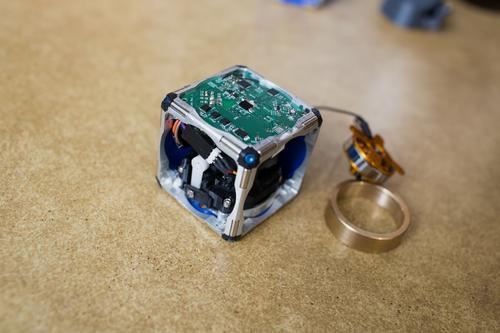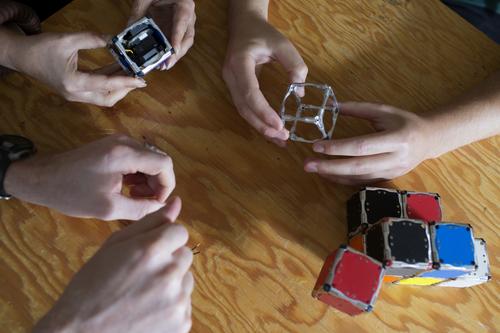 The M-Blocks project is under the direction of MIT professor of computer science and electrical engineering Daniela Rus, director of the university's computer science and artificial intelligence lab (CSAIL). Rus has led several innovative robotics projects, including a 3D-navigating robot and a different approach to robotic self-assembly/reassembly: tiny robotic pebbles or cubes that self-assemble to duplicate an object when it's placed inside a pile of them.
The M-Blocks have no external moving parts, only magnets. Their movements are caused when the brake on the flywheel is applied, imparting its angular momentum to the block. Inside, though, are a brushless motor controller, a flywheel, a braking mechanism, electronics, a radio, and a battery, Kyle Gilpin, a postdoc who worked on the robotic pebbles project, said in the video. He said the team wanted to keep the outside of the cubes simple. The exterior has only eight face magnets per side for course alignment and the edge magnets, which can rotate in place, acting as pivots, as he demonstrated. "As a result, you form a very strong bond between cubes, which allows them to stay attached as one is rotating into a new position," he said. "As it continues rotating, the face magnets provide alignment and it snaps into place."
John Romanishin, now a research scientist at CSAIL, proposed the M-Block idea as a senior at MIT, according to a press release. Although the team wants to miniaturize the blocks, they can still prove useful at their current scale for tasks such as constructing temporary buildings after a disaster, making temporary bridge repairs, assembling into furniture or heavy equipment, or acting as rescue robots. The team is currently building a set of 100 M-Blocks and designing control algorithms.
The cubes have fewer actuators and fewer moving parts than are typical for most robots, said Romanishin, in the video. Their ability to jump is unusual in modular robots and was actually discovered by accident. It's made possible by the fact that the internal actuator creates enough momentum to move each cube along a lattice structure.
Commands are sent from a computer to each M-Block via radio, said Gilpin, in the video. "In the future, we envision putting the algorithms on the modules themselves, so they can completely autonomously, in a distributed fashion, decide how, when, and where to move. So we want to be able to take a large group of cubes, tell them 'form this shape' and give those instructions at a very high level, and have the cubes decide on their own how to go about accomplishing that task."
Romanishin, Rus, and Gilpin will present a paper detailing their results at the IEEE/RSJ International Conference on Intelligent Robots and Systems in November in Tokyo.
Related posts: