Robots are getting more skilled all the time.
We've told you about an electronic skin for robots that's sensitive to touch, made of a sensor network mounted on flexible plastic. We've also told you about some admittedly creepy genetically engineered skeletal muscles for robots. A different approach to robotic muscles based on an electroactivated polymer (EAP) produces muscles that lift 80 times their own weight, a new benchmark.
Devised by a team at the National University of Singapore's (NUS) Faculty of Engineering, the artificial muscles not only could make robots stronger, but also help them become self-powering after a brief period of charging. That's because the muscles also convert and store energy.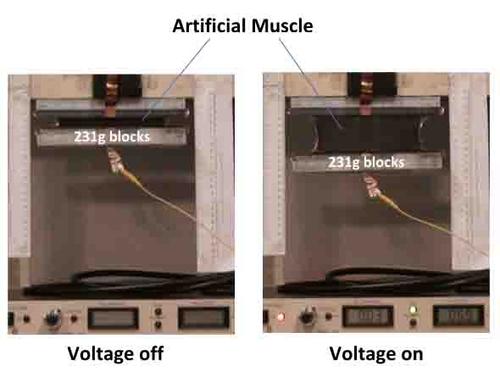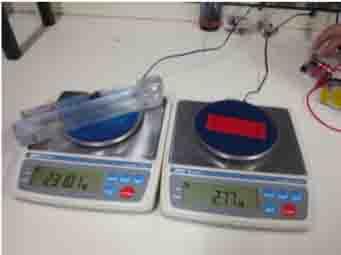 Like organic muscles in people or animals, robotic muscles based on EAPs respond to electrical stimulation. The NUS team's materials respond very quickly to electrical impulses, said team leader Adrian Koh, from the university's engineering science programme and the department of civil and environmental engineering, in a press release:
Our materials mimic those of the human muscle, responding quickly to electrical impulses, instead of slowly for mechanisms driven by hydraulics. Robots move in a jerky manner because of this mechanism. Now, imagine artificial muscles which are pliable, extendable, and react in a fraction of a second like those of a human. Robots equipped with such muscles will be able to function in a more human-like manner -- and outperform humans in strength.
Koh said that the artificial muscles' ability to lift 80 times their own weight is a first in robotics. So far the limit has been lifting about half their own weight, much like the limit of the average human. Previous artificial muscles could stretch only three times their length. But while carrying these loads, the new muscle material can be stretched to about five times its original length, also a first. When Koh and his team began their research last year, they calculated that EAPs could theoretically be stretched over 10 times their original length and lift a load up to 500 times their own weight.
The materials produce electrical energy converted from mechanical energy as they expand and contract, said Koh. In fact, quite a lot of it. "We calculated that if one were to build an electrical generator from these soft materials, a 10kg system is capable of producing the same amount of energy of a 1-ton electrical turbine" he said. After less than a minute of charging, a robot could thus be self-powered.
In June, Koh was awarded the Promising International Researcher Award at EuroEAP 2013, the third international conference on Electromechanically Active Polymer transducers & artificial muscles in Zurich, Switzerland. The team also presented some of its findings at the conference in a paper, "Dielectric elastomer generators: from fundamentals to realization."