A crumbling, rusting heavy-vehicle bridge in Washington, D.C., made of reinforced concrete and steel rebar has been replaced with one with a fiberglass-reinforced composite deck.
The 29th Street Bridge spans the stone walls of the historic Chesapeake and Ohio (C&O) Canal that runs throughout Washington's Georgetown district. To help reduce the load on the old walls, officials at the D.C. Department of Transportation wanted a replacement bridge deck that would weigh less than concrete and steel.
Click the image below to see the new bridge and how it was built.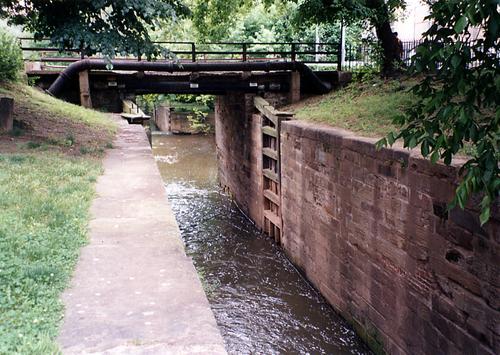 The fiberglass-reinforced polymer vehicle bridge deck is constructed with molded panels made of Composite Advantage's FiberSPAN material. The company says on its website that each panel is a sandwich containing internal grids of bi-directional shear webs for the distribution of heavy truck loads. They weigh about one-fifth as much as concrete.
Composite Advantage makes large fiber-reinforced composite components of up to 52 feet long for vehicle and pedestrian bridges, rail station platforms, and waterfront infrastructure such as pier components. For the 29th Street Bridge, it installed five deck panels on a substructure made of steel beams. Shear studs were welded to the beams, and the panels were bolted to those studs. An asphalt wear surface was applied on top of the bridge deck. A fiberglass-reinforced composite sidewalk was bonded to one side of the bridge, and granite curbs were attached to the edges of the bridge deck.
The new short-span vehicle bridge -- the area's first with a deck made of this material -- is 39 feet long by 32 feet wide. Its structure, combined with its lighter weight, helps support the stone walls of the C&O canal and keep them upright.
Related posts: