A lot of work in many different areas has been done to make robots work better alongside humans. After all, they're just too darned insensitive and tough to communicate with. We want to them to be controlled by our thoughts, predict our moves, recognize our gestures, and develop a sense of touch. That last one may be getting closer, due to a breakthrough by engineers at the University of California, Berkeley.
The team, led by Ali Javey, associate professor of electrical engineering and computer sciences, has developed an electronic skin made of a sensor network mounted on a substrate of flexible plastic. The 16 x 16 pixel e-skin reacts to touch by lighting up. More pressure creates brighter light being emitted by the skin's organic LEDs. The entire LED display includes red, green, and blue pixels. An artificial skin that's sensitive to touch could help robots adjust the amount of force they need to hold and control objects of different shapes and sizes.
Click on the photo below to start the slideshow.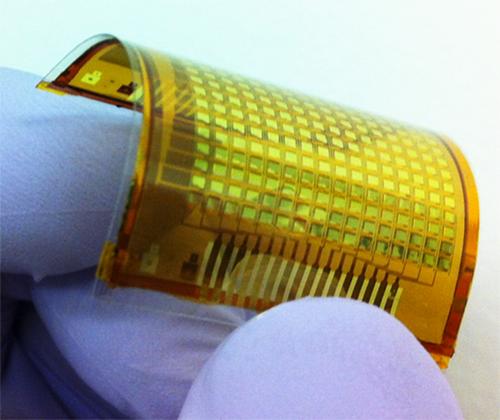 The entire skin does not light up when touched, only the specific pixels being pressed. It therefore creates not only a spatial map of where pressure has been applied, but an immediate visual response. You can watch a short video here that demonstrates the process.
Javey, who is also a faculty scientist at the Lawrence Berkeley National Laboratory, and his team describe their work in an article (purchase or subscription only) in Nature Materials. He envisions that the material could have a number of applications in addition to robotics, such as coating various objects to form a new type of human-machine interface (HMI). A couple of possibilities are a top layer of material on a car's dashboard that lets drivers gesture to change the controls, or wallpaper that also operates as a touchscreen display. Other potential applications include artificial skin for prosthetic limbs.
"I could also imagine an e-skin bandage applied to an arm as a health monitor that continuously checks blood pressure and pulse rates," said Chuan Wang, a post-doctoral researcher and co-lead author of the study, in a press release. "Integrating sensors into a network is not new, but converting the data obtained into something interactive is the breakthrough. And unlike the stiff touchscreens on iPhones, computer monitors, and ATMs, the e-skin is flexible and can be easily laminated on any surface."
Each pixel in the e-skin includes a pressure sensor, a nanotube thin-film transistor, and an active-matrix organic LED. These are integrated on a substrate made of polyimide. After the engineers layered the polyimide thinly over a silicon wafer and cured it, they could then process the wafer using standard semiconductor fabrication tools to add the electronics. After peeling off the silicon wafer, the result was a flexible film embedded with a flexible sensor network. According to the article's abstract, this e-skin "presents a network of mechanically flexible sensors that can conformally wrap irregular surfaces and spatially map and quantify various stimuli."
In Javey's earlier work, which the new discovery is based on, he and a different team layered germanium/silicon nanowires to form transistors on top of thin sheets of pressure-sensitive rubber.
The next step for the current e-skin project is to engineer it to respond to light and temperature, in addition to pressure. The research was funded by DARPA and the Department of Energy.
Related posts: