Last month, we told you about NASA's work with Made in Space to design a 3D printer that will operate in near-zero-gravity environments like the International Space Station. NASA wants to give astronauts quicker access to tools and replacement parts and lower fuel costs.
Now Made in Space has announced that the 3D Printing in Zero G Experiment device prototype has passed several initial tests required before it can be certified for flight. This device will be the first machine able to make parts in space. It uses a technology known as fused deposition modeling, in which plastic is deposited via a wire feed through an extruder head.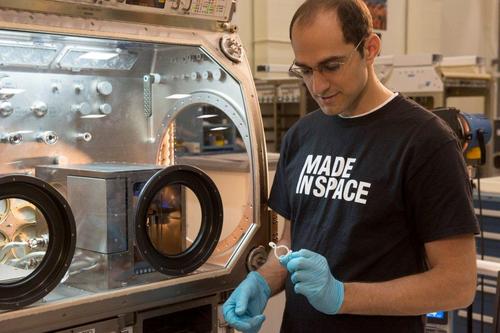 In June, Made in Space said it believed the printer that goes to the space station next year will be able to make 30 percent of the spare parts astronauts will need, in addition to things like upgrades for experiments and specialized tools. Made in Space CTO Jason Dunn told us in July that the first 3D printer would use plastics, but the company is experimenting with and developing other materials to work in space.
The engineering test unit of the new 3D printer passed microgravity tests at the Johnson Space Center in Houston. To simulate conditions on the International Space Station, the printer flew on four microgravity flights, each two hours long. Made in Space evaluated its proprietary printer to ensure that layers would adhere, and that resolution and part strength would be maintained in the microgravity environment.
Next, the printer was shipped to NASA's Marshall Space Flight Center. Engineers put it through environmental testing and functional testing to ensure that the hardware could survive the rigors of being launched into space and operate properly in a microgravity environment. Launch conditions were simulated to make sure the unit could withstand sufficient vibration. The printer also went through acoustic and electromagnetic interference testing. All these tests will be repeated for the printer's next incarnation, the flight unit model.
Marshall Space Flight Center engineers also verified that the hardware will fit into and integrate with the Microgravity Science Glovebox. This nine-cubic-foot enclosure on the space station acts as a laboratory and helps ground-based scientists perform experiments in space.
The next stage in the testing, critical design review (CDR), is scheduled to start Aug. 15. Niki Werkheiser, 3D Print project manager at Marshall's Technology Development and Transfer Office, said in a press release that the engineering test unit's design must be considered 90 percent complete by NASA's CDR Standing Review Board to pass that stage.
Related posts: